With fall and everything pumpkin spice upon us, what could be better than to add a touch of functional fall to your home? And these Cafe Latte mug rugs will do just do that. Made with mercerized cotton from Lion Brand, these are perfect to throw under a hot mug of coffee, and will look simple and chic under a wine glass too. In case you prefer merlot to pumpkin spice 😉
Fall for me is the season of utter perfection. Golden light, cooler temps, cozy sweaters and leaves changing to give the landscape a kaleidoscope of colours, everything about this season brings me peace. Throw in spooky season as the days grow shorter with ghoulish faces craved into pumpkins and I'm in heaven. Fall is divine, and I know many makers really start flying through the WIPs come fall. The Cafe Latte mug rug are an easy, cute project to add to your queue and will add a touch of cosy elegance to your home.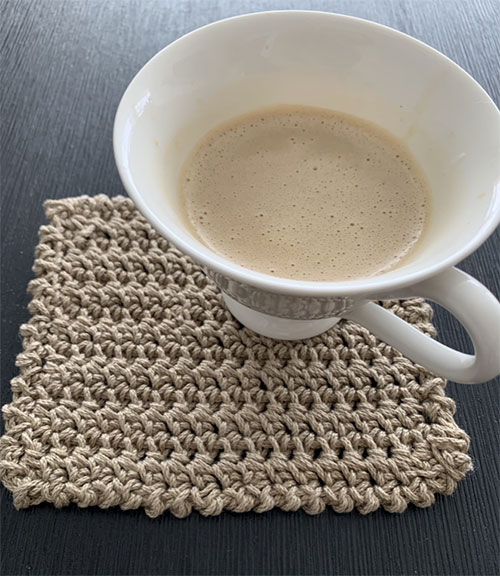 They also make a great stocking stuffer or hostess gift for Thanksgiving.
Since fall is my favourite season, I really wanted to share with you some patterns that are pretty, functional and that are reminiscent of fall itself. Today, I'm sharing the first of those patterns and I'm very happy to be finally doing so!
Cafe Latte Crochet Mug Rugs Pattern
Made with two stitches not often used, the extended single crochet, and the reverse single crochet, these crochet rug mugs are simple and perfect for the home those into minimalist style and decor. I really love the extended single crochet; it creates a look not often seen in crochet and just adds a touch of elegance to a piece in my opinion. I also use this stitch in my Emily Mulberry Scarf. 
The reverse single crochet on the other hand, takes some time getting used to, and is never going to be a stitch I use often. However, I thought the two together made for a unique look and I am rather proud of the fact that I stuck to my plan.
Reverse Single Crochet
This stitch is made by working backwards, or in reverse. The first time I heard of this, it was from a more elderly neighbour who then proceeded to show me this stitch. I honestly thought it was something she made up herself, but later discovered that it was in fact a stitch that crocheters use. It looks awkward and does take some getting used to, but I assure you, you can do it. Remember, I don't even like working this stitch myself, so you can trust me on this. You can do this stitch. You work it from the wrong end of your work and place the hook into the stitch from the back of your work. This creates a stitch that is tight and corded.
Check out B Hooked video for more visual instructions.
Materials
One skien Lion Brand 24/7 in Biege
5.00mm and 5.50mm hook
Yarn needle to weave in ends
Measurements
Gauge: 1 inch = two rows in width. Not very important for this project.
Finished Dimensions: 5.5″ x 5″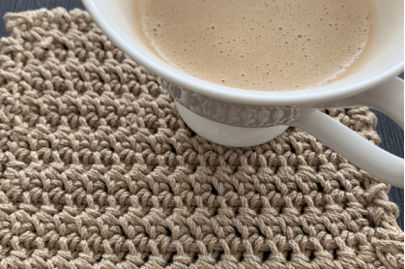 I think these little crochet mug rugs look rather cute under a cup of tea, my preferred hot beverage year round (sorry all you lovers of pumpkin spice) and I'll likely use these right up till Christmas time, when I might switch them out for something in the shape of an elf. Or reindeer. Or just a red and green granny, we'll see 😉
I have some more fall patterns heading your way soon, so please be sure to subscribe to the blog and my socials–which would truly mean a lot to me.
What do you like to crochet during the autumn months? Let me know in the comments!