**Updated May 3, 2023**
A few years ago now, I crocheted a lovely little sunglasses case with some left over yarn and to this day, I still love this pattern. When I first started blogging, I used to have little series for patterns, one for winter, another for summer, and this pattern belonged to one of those collections of patterns. The colours are just fun and summer and it's easy to work up, and super functional. It's a free pattern, as it always has been and one I hope you love. With sunnier days ahead of us, I hope you'll give this pattern a try. It's perfect for lipglosses too! Or even your crochet hooks if you like to crochet on the go. I like to crochet in the car and having a safe place to store your hooks while you're out and about is ideal if you are carrying around multiple projects. Repurpose the finished piece as you like, the sky is the limit.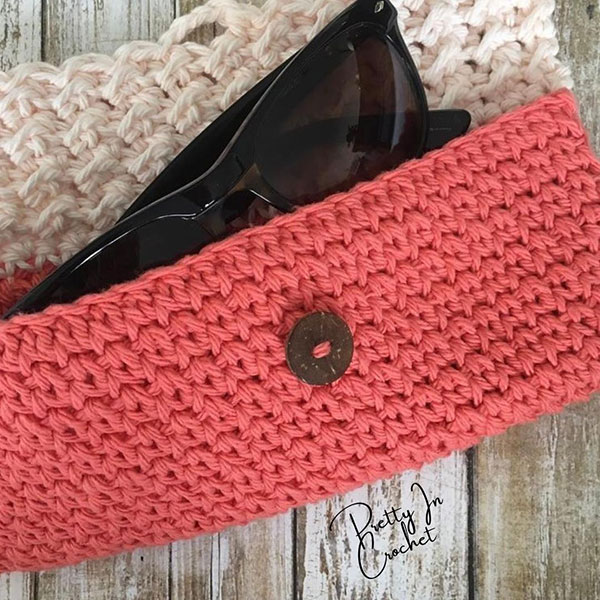 July, 2018 Original Post
I'm excited to share with you today a pattern a for crochet sunglasses case. Using a worsted cotton yarn, this case is sturdy and will protect your sunglasses from scratches and dirt while housed in your purse. Just what every girl needs, it's functional and pretty.
I used juicy coral colours, and a combination of stitches in this pattern, but this is certain to be the perfect project for an experienced beginner. I was once a crocheter who thought some projects beyond me, but I've learned that a lot of things that look intimidating are often far more easy than you might initially think. So believe me, you can hook this up without too much trouble!
Crochet Sunglasses Case
Materials
Bernat Handicrafter yarn, one skein each in Camomile and Tangerine
4.00mm (G size) hook
Tapestry needle
One button
Stitches (US Terms)
Ch-chain
Sl st-slip sitch
Sc-single crochet
Hdc-half double crochet
Special Stitch
Center Single Crochet-Insert hook into the legs or inverted V of single crochet, yarn over and complete single crochet as you normally would.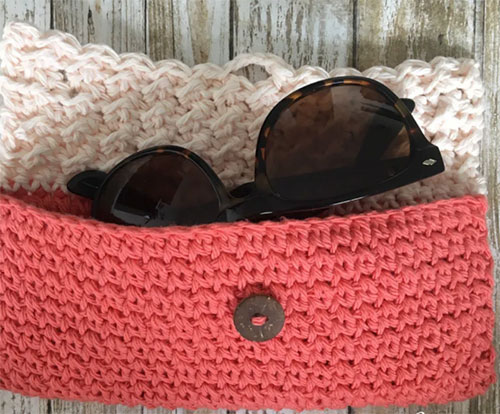 With Tangerine, Ch 29
Row 1: Sc into second st from hook, and in ea st till end of row. Ch 1, turn.
Row 2: Center sc into first st, and into each st till end of row. Ch 1, turn.
Row 3-39:Repeat row 2.
Change colour to Camomile
Row 40: Repeat row 2.
Row 41: *Sl st into first st, hdc into next. Rep from * till end. Ch 1, turn.
Row 42-49: Repeat row 41.
Row 50: Repeat row 41 for 12 sts, then ch 3, skip two sts, continue pattern till end of row. Fasten off.
Assembly
Fold your case from bottom until it overlaps the first row of Camomile. Sew up each side using Tangerine yarn. Weave in all loose ends. Attach the button slightly below the three chain button loop with yarn. Viola! Your crochet sunglasses case is complete! And it's cute and chic. I hope you adore yours as much as I do mine.
Don't want to miss a pattern from this collection? Subscribe and never miss a post!