*This post may contain affiliate links to support the cost of this blog. At no cost to you, I may make a small commission if you purchase through these links.*
You'll remember that I have posted about several crochet wearables I was working on earlier in the summer months. And, possibly spring months. I was energized at the time to crochet a bunch of wearables, all breezy and perfectly lovely and got really caught up in the projects. Then, I sort of hit a lag. A place where I just "paused" to re-group to get to the next section of the project–the front panel or sleeves or whatever. And that pause turned those projects into UFOs–not, the sort Scully and Mulder saw pretty regularly on the X-Files, but UnFinished Objects. And they sit there in their project bags, as unfinished now as they were way back when in the summer. 
Now, I do want to finish those projects. I do. But I'm constantly putting them off for one reason or another–when the later summer months began, it was work on fall projects such as the Lexi Lace Scarf, or pumpkins–I became really obsessed with pumpkins. Now that it's November, I want to regroup and update you on some of those crochet wearables and tell you my plan for the months of November and December.
Crochet Wearable I'm Designing
If you have been following on my Instagram, you've likely seen some photos of yellow and gray rectangles and seen hints about them turning into something…more useful than a mere rectangle. In fact, they are going to be a cardigan I am designing. I know what I need to do next, I just got sidetracked by smaller projects–hats, scarves…pumpkins. So I hope you'll be seeing that pattern in November.
Sun Kissed Cardigan
This wearable by MJ's Off the Hook is one I must finish. I really want to wear it when I head back to work at the end of January. I think it will look stunning over black pants and a black long sleeved tee. And equally lovely in the spring months over a white tee and some knee length shorts. It's just simply a matter of getting back to this wonderful project, which I hope to do by the end of 2022. It shouldn't take me too much time since I have nearly the whole back panel completed.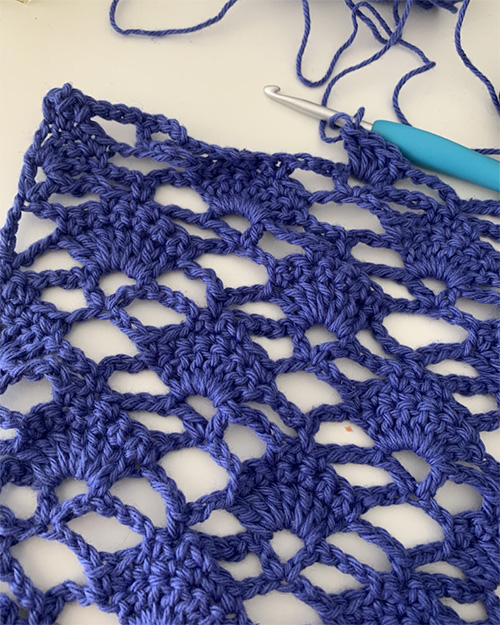 Easy One Piece Lace top
Now, this is another project by MJ's Off the Hook, and it needs serious attention. I need to sit down and decide what I want to do with it now that my failure to do a gauge swatch has turned out badly. I didn't really think to do a gauge swatch because while I *knew* I should, I figured it would all work out since I was using the same weight yarn and hook. Which was a stupid mistake. So now I have a piece that is turning out to be too long with sleeves that are too tight and I *believe* may need to be frogged. Trust me, I am heartily ashamed of myself and annoyed with myself and so this project is on ice for the moment. Maybe I'll look at it again in the new year.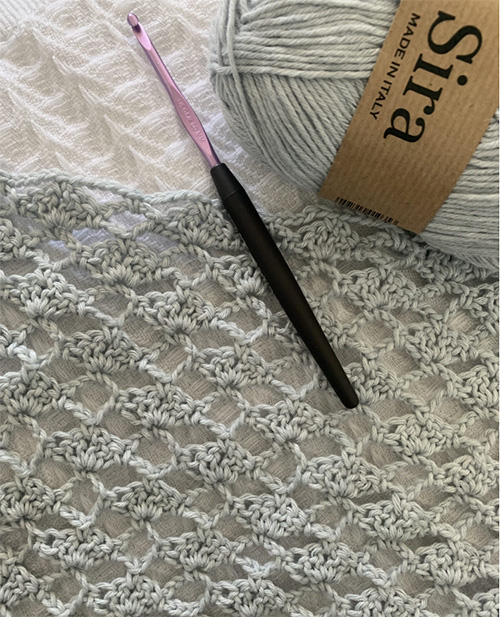 Tulip Square Sweater
Crocheting granny squares has never been so annoying as it has been with this project. The pattern is very easy, but something is wrong with my brain whenever I sit down with this. The granny squares made me dizzy somehow–I couldn't crochet more than two in a row without making mistakes and ending up with an odd parallelogram. So it took me some time to get through all ten squares. I have triangles still to do as well. Now, while I like the pattern and the yarn (I bought the kit through Lionbrand) I'm not sure how I feel about so chunky a sweater anymore. I will finish this at some point but I don't know if I will keep it or gift it. Only because I'm no longer sure chunky sweaters suit me, or that I won't be too hot in this sweater. So this remains on ice till new year at least.
Sweet Summer Tee Sweater
I decided to make this Evelyn & Peter sweater in blues with some lovely Egyptian cotton yarn, primarily so that I would have a sweater that fell on my body properly, as the first time I crocheted this lovely wearable pattern I made some modifications, and also as practice as I'll be making this sweater a third time for my mother in law. Right now, I have the front panel hooked up and am very pleased with how it turned out. I started on the back panel and lost my mind when my gauge didn't meet the front panel. So I put this project on ice, but it will be taken up again in January if everything goes as plans.
To Sum Up
So, in short, I hope to release the cardigan pattern in November. In December, I hope to return to the Sun Kissed cardigan and the Sweet Summer Tee sweaters. It would be ideal to complete one of those before 2023 rings in, and then in the new year I'll consider what to do with the other sweaters on ice.
Crochet wearables aren't hard to crochet. They do, however, require a bit of time and determination. Now, time I am sometimes short of, but determination I have in spades–when I'm not frustrating myself to high heaven by not gauge swatching and confusing myself while I crochet granny squares of all things. It is discouraging to begin things to have your own brain and laziness get in the way. But I will complete some crochet wearables soon and share them with you. And then I won't have to hang my head in shame anymore!
What crochet wearables are you working on? Share in the comments!