If you want to enjoy the benefits of hygge, then this crochet pattern is for you. If you don't know, and I think everyone on the internet does now, hygge is a Danish word that describes a mood of coziness. Hygge is a huge part of Danish culture, and I embraced the notion of it while I was renovating my condo. The Lazy Days Lapghan is perfect for adding an element of comfort and hygge to your home, to cuddle up with as you read a book or enjoy your newest favourite show on Netflix. I adore hooking up cozy blankets and this one is squishy and soft and oh so cozy. I can envision myself curled up this blanket in winter, the snow falling softly outside my window. The yarn is an acrylic and alpaca blend and heavenly to work with. You can find this yarn at your local Michaels. A good substitute for the yarn would be Lion Brand, Wool Ease Thick and Quick. But if you can find this yarn, give it a try because it really is cozy.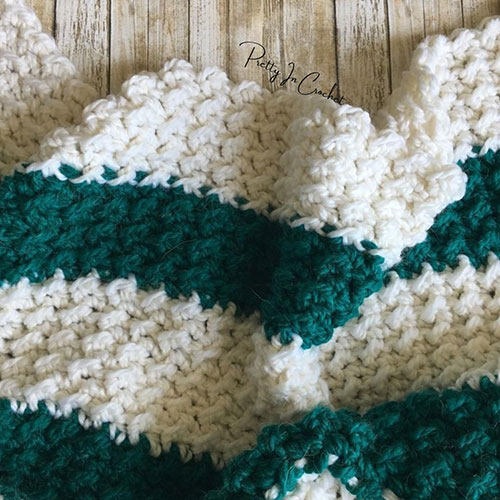 This is a super easy pattern, using the crunch stitch. If you can slip stitch and half double crochet, you can create the crunch stitch. I love the crunch stitch's texture and it lends itself well to chunky yarns. Sometimes simple is best. Simple can make a statement.
Lazy Days Lapghan
You can now find the free  PDF on Ravelry!
Materials
5 skeins of Loops and Threads Lush Alpaca in White, 4 in Peacock.
11.5mm hook
Craft needle
Pattern Notes
Alternate yarn colours, beginning with White, till the end of the skein. Be sure not to stop in the middle of the row, but at the end of one. If you can't get this yarn, then Lion Brand's Thick and Quick is a great alternative as I said, but you can try Hobbii and We Crochet as they have some great bulkier weight yarn as well. I honestly think this blanket would be lovely in a merino wool.
The main thing about this stitch is you are always crocheting a half double crocheting into a slip stitch, and a slip stitch into a half double crochet. As long as you keep alternating, the pattern will work up.
Modifying the Pattern
Want a longer blanket? Or a wider one? Add more rows to make it longer, or if you want to make it wider, just make your starting chain longer. The beauty of this pattern is how simple it is. I originally designed this pattern back in 2018, and it's proved one of my most popular patterns, and I know that this blanket continues to be one that makers love to make. You could also add a boarder, which is not part of this design, but I may one day update or revamp this pattern. Play around and have fun crocheting your Lazy Days Lapghan. Just crocheting it will be so hygge!
Thanks for checking out the pattern. Subscribe to the newsletter to stay up to date.