*This post may contain affiliate links to support the cost of this blog. At no cost to you, I may make a small commission if you purchase through these links.*
It's a lovely spring day as I sit and write this post, which is an exciting post for me as this is my first shawl pattern. I love to crochet shawls, they are my project of choice as I love the lacy, romantic look shawls can add to an outfit. I love crocheting shawls, but I had never dared to try to design a shawl–until now. Since I prefer design simple patterns, this lovely shawl is simple and beginner friendly. Hence the name, Simply Lovely. 
This shawl is designed in a granny triangle style with a shell broader and if you can double crochet, you can totally crochet this shawl. It's also the kind of pattern that you can quickly get into the rhythm of and hook up without too much fuss or pattern checking–the perfect in front of the TV pattern. Easy but elegant, I think you will love this shawl as much as I do.
I use a DK weight yarn, Lion Brand's Truboo, and a smaller hook and I think the effect is just really pretty. Which is always my goal anyway, to be pretty in crochet.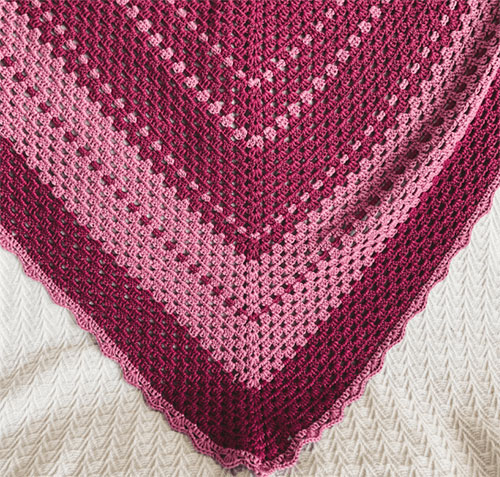 Simply Lovely Shawl Pattern
I will say, I made this shawl for me, and I am a petite 5'1″ so do know that you can make this shawl larger by adding more rows before doing the final row, which is the broader. To maintain the look, make sure to extend the length with the same colour until you come to the broader. I prefer to design for my own body as often find lovely patterns for shawls that are just too big for me because of my height, and I'm thinking that if I have this problem, then other petite women do as well.
I chose to use a smaller hook than I normally would for this pattern because I wanted to tighten up the drape that I know this yarn creates as we crochet it into a beautiful fabric, and I am really pleased with the effect. There is drape, but it's more structured and dense, and I appreciate that in a shawl. Of course, you could use a 4.00mm hook to achieve a more drape-y look.
Suggested for You: Lacy Bloom Cowl Pattern
While I do love this yarn, and use it often, I will say that it does split on me, so do be aware of that. I recommend using a Clover hook because personally I always get less splitting when using the hooks. However, this is still a wonderful yarn and the colour choices are so pretty that I just keep returning to this yarn again and again. When I love a yarn, I love a yarn.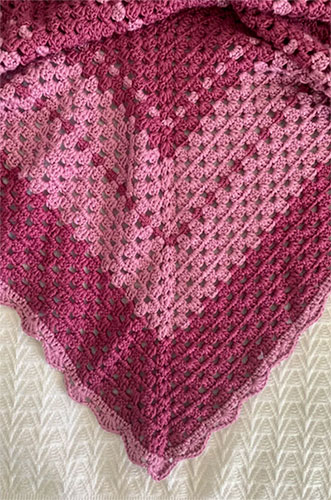 Materials
Two skeins each of Lionbrand Truboo in Mulberry and Mauve
3.75mm hook
Stitch marker
Weaving needle
Measurements
Gauge: 1 inch = 5 stitches
Finished Dimensions: 44″ x 23″
You can find this pattern on:
BUY THE PATTERN
I had a lot of fun designing this, it turned out exactly as I wanted and especially the boarder, which for me is always the crowning design element in shawls. I'm so glad that I recently returned to designing and blogging about crochet, as this craft really does bring me a lot of joy. Also, crocheting this piece has proven to me that I can design anything I want to design if I really commit myself and believe that I can, which has proven a wonderful exercise in self love.
Please do check out my pattern, and check me out on my socials too! And please, share your thoughts on this shawl with me in the comments below, I'm always excited to hear from you.