*This post may contain affiliate links to support the cost of this blog. At no cost to you, I may make a small commission if you purchase through these links.*
This spring, I have been working on crochet wearables more than any other project. Wearables are daunting projects for me as I often lose motivation and move on to another, quicker project. To be honest, the pieces I love crocheting most are shawls and wraps. But I decided this spring that I needed to work on some larger projects to stretch my wing and improve certain skills. And also, to add to my wardrobe! I've always thought it would be cool to have clothes that I've made myself, and it seems like the perfect time to work on these projects.
Before I dive into the pretty pieces I'm crocheting, I want to talk a little bit about what I've learned as I have been working on wearables. I still feel a little inept when it comes to making a cardigan or tee and I know that I, like everyone, still have a lot of learn–learning is life long after all!
What I've Learned About Sizing
I have to take some deep breaths before I start talking about sizing. I have found in the past that certain patterns fit me huge, and these patterns have been specifically for shawls. Which strikes me as weird, but I once hooked up a shawl that was ten feet wide. I trusted the pattern…it was long ago, in my early days of following patterns and crocheting. And I have had to adjust other shawl and even bulky scarf patterns because otherwise I'm wearing more of a blanket than a shawl or scarf. So to be quite honest, I don't always trust the sizing in patterns. However, I have learned more recently that when it comes to wearables that there is a standard from the Craft Yarn Council, which is where all of us fibre artists should be going for educational purposes and also because yarn brands and those that publish patterns and books, are aligned to the standards of the Craft Yarn Council as it "represents the leading yarn companies, accessory manufacturers, magazine, book publishers, and consultants in the yarn industry."
Now, I wasn't living with my head in the sand. I knew about CYC. However, I didn't realize that they had a sizing standard, so when I looked at sizes in patterns, I always wondered if the small would fit me, even given the bust measurements. Since I am petite, I was worried when it came to wearables that I would make a sweater that would turn out to be more of a sweater dress or with super long sleeves. However, while watching a crochet podcast on Youtube (why aren't there more??) the designer being interviewed began talking about these standards and so I started googling like any yarn minded person would of course. So now, with the standards, I feel as though I can gauge wearable projects a lot better and I have had my eyes opened clicking through the CYC website.
Lacy Pieces
Since it's spring, I decided to work on some open work pieces, both of which come from the same designer and have a lovely lace pattern. I love working lace like patterns. It's a lot more entertaining than simply crocheting row on row of double crochets. I think I finish the lace like cardigan soonish, but the top might take me a little longer. But the lovely thing about these pieces is that while they are spring pieces, I could layer them in the winter months over long sleeved tees and camis, and that makes me super happy.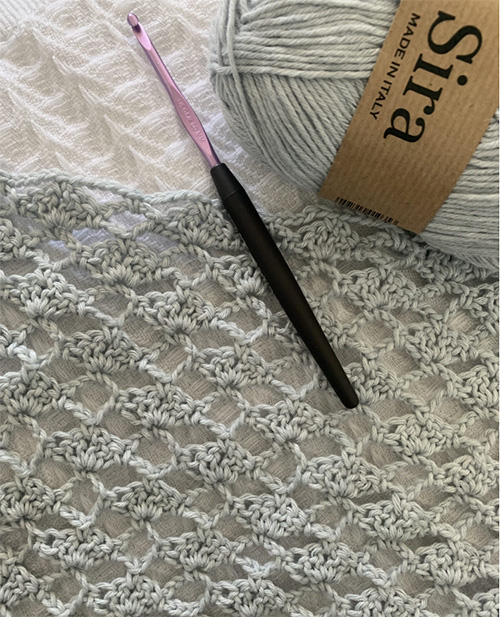 I really can't wait to wear this lovely blue cardigan, and I'm excited about the idea of one day wearing this lacy top to dinner or even to work when my mat leave is over. You can find the pattern for this piece at MJ's Off the Hook Designs.
Spring Tee
I also decided to make a spring tee. I found a pattern I like on Ravelry, and realized that I could buy it as a kit from Lionbrand. Now that I've been diving back into the yarn and fibre arts community, I have learned (or remembered) that you can order these kits from a lot of yarn brands which I think is pretty cool. I was delighted with how fast the yarn arrived too, since I usually expect yarn to take three to four weeks to come if it's coming in from the US. You can also find the pattern free on Evelyn and Peter.
I decided to modify the pattern a little bit for size, as being petite sometimes even smaller sizes fit large on me–this was before I discovered about the standards of the CYC so I was less trusting of the measurements included in the pattern. The pattern was an easy one, an excellent one for the beginner who want to challenge themselves, so modifying it was a breeze. I love the way it turned out, though I do think I might add a few rows to the bottom to make it a touch longer as my measurements were slightly off. Quite honestly, I don't think I'll be modifying sizing now that I know that most (if not all) publications use these standards.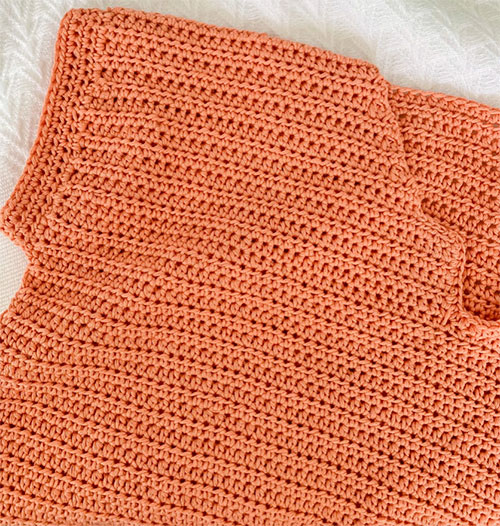 Sadly I can't show you finished pieces just yet, however I certainly will be on Instagram as they pieces become completed! I have so many other projects on my hook as well–I'm currently crocheting a bag free hand, and a Tunisian crochet shawl as well as the two lacy wearables I mention in this post, and then there are bunch of WIPs I'm not working on tucked away in project bags. But I'm crocheting daily and loving everything I'm working on and loving being in this community, so I hope I can share tons with you soon!
What's on your hook? Share below, I love to hear about your projects too.