The Christmas season is sneaking up on us. You might have noticed Christmas already in the stores—I sure have. And I know that I am way behind with my Christmas shopping this year. And even when many of us think we are done with our shopping, we end up remembering someone on the list we forgot—a co-worker or neighbour, or you decide that you need to add something to the gifts you already have. 
And that brings me to stocking stuffers. Stocking stuffers are great way to add on to someone gift, and don't need to add a lot to your budget. And as makers, I know we love making things for our friends and family but don't always have the time to invest in large projects like sweaters and blankets.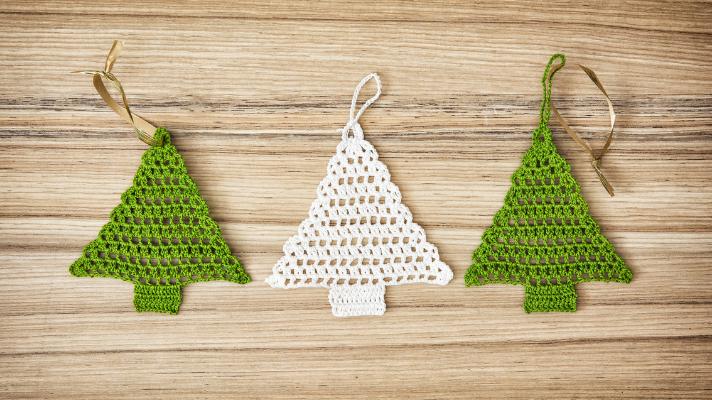 Scrubbies
I think a quick and cute project to stocking stuffers are scrubbies. You can literally hook up these up no practically no time at all. I like these for removing my make up as they are eco friendly—you don't have to keep buying make up remover wipes—and because they are softer on the face if you use a nice cotton yarn. Plus, they are cute and can be made in any colour so that the person you are giving them is bound to fall in love. Try this eco friendly scrubbie pattern by Bella Coco. 
Mittens
Christmas is the perfect time to gift mittens because it falls in winter and if it hasn't snowed yet, it's likely going—unless you live in Mexico or Florida. Mittens don't take a ton of time to crochet and can be tucked into a stocking easily. And, they are always a welcome gift because they tend to be so darn cute. I really like this Snow Drops pattern and the instructions seem detailed and easy to follow. 
Hair Scrunchies
Tweens and teens alike will thank you for a cute hair accessory and scrunchies are functional and cute. Plus, you whip up a ton of these in no time at all. I used to make these with stiff cotton yarn but I think a chenille yarn would be much nicer. Or, a soft cotton yarn instead of that stiff stuff I was using. Try this really pretty crochet scrunchie pattern from Daisy Cottage Designs.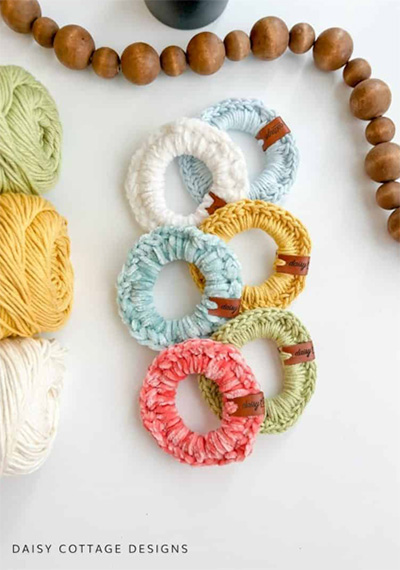 Socks
Now, I know the idea of crocheting socks seems daunting—possibly impossible—but crocheting cozy bed socks is easy and quick and you'll be making more pairs than you'll know what to do with. I made these slipper socks by Brittany from B.Hooked myself last year for my aunt and it took me so little time that my husband commented on the super at which I crocheted. 
EarWarmer
A nice alternative to hats is earwarmers. They can add a little something to your winter wear and are great if you are popping in and out of stores and don't really need a hat which is a pain to pull on and off. An earwarmer can double as a headband in this case. These crochet up quick so you could easily make this project on Christmas Eve without the need to panic. I personally would try my hand at this earwarmer pattern by Tahryn at Burgundy and Blush because it's so pretty and I'm all about pretty!
Happy crocheting friends, and happy Christmas!