Today, I'm going to teach you the half double crochet. It's a beginner basic stitch, so no one panic yet. I learned the half double crochet (abbreviated to hdc in patterns) many years after I learned to crochet, but once I learned the half double stitch I found I really loved it. There's something about the definition of the stitch that lends itself well to projects and to certain yarns in particular. Also, it lends itself well to projects in which you want to add texture.
Want to get started? Take out your crochet hook my friend. Chain any number of chains, plus two. I chained 15 + 2, so 17 in my swatch.
Now, yarn over and insert your hook into the second chain from the hook (Figure 1 & 2). I included two photos so you can see how to half double crochet into a chain and into a stitch.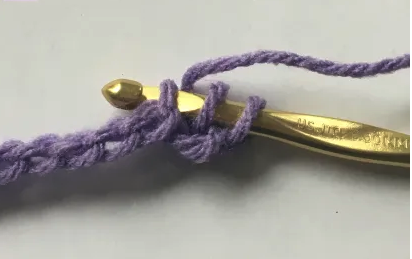 Next, yarn over and draw a loop through the stitch (Figure 3) so you now have three loops on your hook (Figure 4).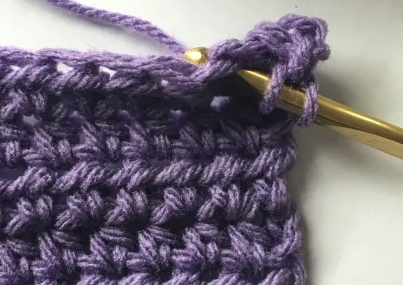 Yarn over and draw through all three loops.
You have completed a half double crochet! It really is that easy. Keep crocheting till the end of the row, then chain one (this is your turning chain) and turn your work. Half double crochet into the next stitch and keep going.
Pro Tip: A lot of tutorials for the half double crochet will call for you to chain two for the turning chain. I recommend changing one because it creates a tidier edge. Hence, your work will look polished and professional.
Half Double Crochet Projects
So when is it a good idea to use this stitch? In what kind of project? Anywhere really. Crochet is a combination of stitches–chain, single crochet and other stitches–that create an overall effect, like the shell stitch, or something open and lacy. If you are looking to create a simple piece, you might want to use the half double crochet for a scarf, or afghan. It works great in hats too. A simple project that uses the half double stitch is my Chunky Lavender Scarf which works up quick and easy and is beginner friendly.
Chose a yarn that you like and match it the hook size on the label. Working with a yarn you like is important, you'll be more motivated to finish the project if you love the look and feel of the yarn you are working with. However, it's not necessary to buy an expensive yarn. There are nice acrylic yarns out there that work up nicely, or blends of acrylic and wool or other animal fibers like alpaca that are lovely and create wonderful pieces. Two or three skeins will be enough to finish a scarf, depending on the weight of the yarn and your hook size.
Happy crocheting everyone! Subscribe to the newsletter for extra goodies!