The double crochet is like the stitch you'll see the most used in patterns. It's twice the height of the single crochet and used in sorts of projects from blankets to wearables. If you've mastered the half double crochet, the double crochet (reads as dc in patterns) is not much harder. Just an extra step. If I'm remembering correctly, this was the first stitch I learned to crochet after the chain stitch. I made many a blanket with this stitch as an eleven year old girl. Now, if I could do that when I was only eleven or twelve, I know you can master this stitch in no time, so let's get started.
First off, chain yourself a length of any number chains, plus two. I crocheted 18, so 20 in total. Next, yarn over and insert your hook into the second chain from the hook. This is important or your row will look awkward when you're done. Note: my pictures show the steps described, however I am not working in the chain in the photos.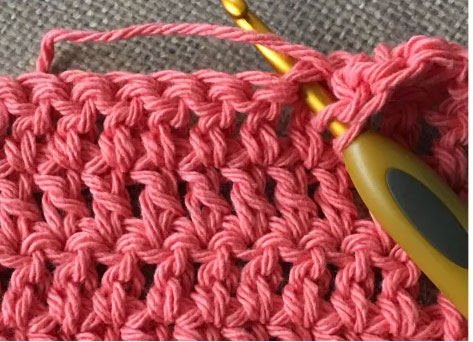 You have three loops on your hook just like when you are working with the half double crochet (Figure 2).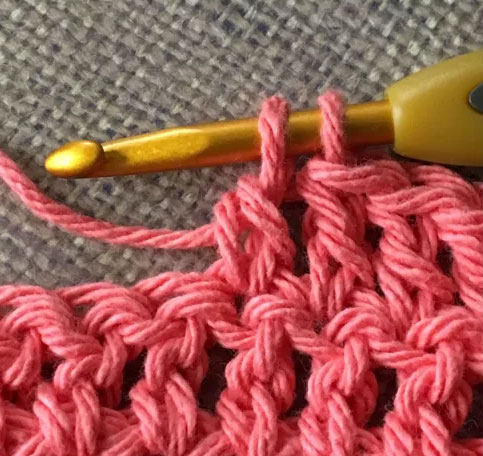 Yarn over and pull through both loops (Figure 4 and 5). You have just crocheted your first double crochet!
I'm so excited that you just completed your first double crochet that I'm doing a little dance. You are well on your way to becoming a master crocheter! Keep practicing this stitch till the end of the row, then chain two (this is your turning chain) and turn your work and keep going, starting the next double crochet in the first stitch. Keep practicing this for several rows to get the hang of it.
Keep In Mind…
Remember to try and use a consistent tension. Not too loose, and not too tight. This takes time for some, and that's okay.
You need to place a double crochet into the top of your turning chain at the end of row two and every row after that. Otherwise, you are dropping stitches and your piece will start to have a slanted edge. Or otherwise look odd.
Your swatch should look rectangular if you are placing your stitches correctly.
It's natural to make mistakes! Just take your hook out of the stitch, tug a little on your yarn and start that stitch all over again.
Practice makes perfect!
Need help? I will answer any questions in the comment section below.
Ready for a Project??
I bet you are beginning to really itch to try your hand at a project. Try the Winter Sunset Cowl, which has single and double crochets and works up into a lovely piece.
Have a lovely day crocheting everyone! Follow me on my socials to stay up to date on what's on my hook.