Chevron and ripple stitches are very popular in crochet, especially lately I think. I think that's because it a great way to begin to work with colour changing or colour blocking. I never bothered with the stitch for years, and I don't know why as always really liked it. I figured it was easy enough to hook up, but never took the time to look up the stitch pattern. But when I first started going to local yarn shops and was being introduced to yarns that weren't worsted and acrylic (which is all my big box store had) I decided that a beautiful yarn warranted me spending some time doing some research and creating a piece I really loved. I mean, just look at these colours!
There are different ways to create the chevron or ripple look. I remember struggling the say I decided to try my hand at this stitch. Oddly, some of the stitch patterns I found were not working up nicely. Maybe I was counting wrong? Seeing as this was years ago now, I don't know but I did finally figured it out using a combination of what I learned. It wasn't easy! I don't know why that day I was struggling so much to get a simple stitch pattern to work, but I do remember the frustration I felt. However, once I get the pattern, crocheting this is easy.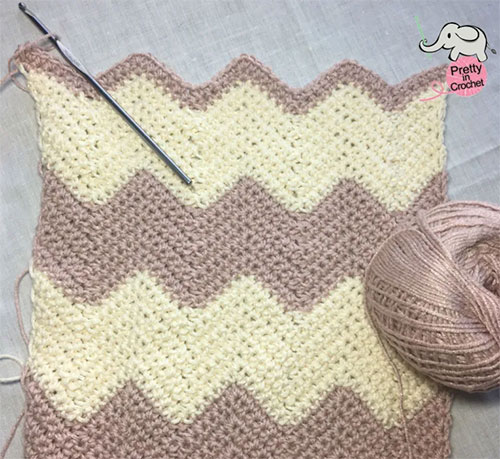 I have to say, if you are a newer crocheter, that you will stun people when you wear your crochet pieces. People I work with can never believe I made the pieces that I wear, and many of them are easy patterns that any beginner crocheter can make! So if you are still new to this craft, don't be discouraged. I preserved and have many lovely pieces others admire.
I used Universal's Bamboo Pop for this project, and I still love and use this yarn. It's absolutely amazing in my opinion and I think the yardage is generous for the price point as well.
How to Crochet the Chevron Stitch
Chain a multiple of 13 stitches + 2.
Row 1: Work 2 sc into the 2nd ch from hook, *sc in the next 5 stitches, sk 2 ch. Sc in the next 5 ch, work 3 sc into the next ch, rep from * to the last ch. Turn.
Row 2: ch 1, 2 sc into 1st st. *Sc in next 5 st, sk 2 st, sc in next 5 st. Work 3 sc in the next st, rep from * across, end with 2 sc in last st. Turn.
Repeat row 2 for pattern.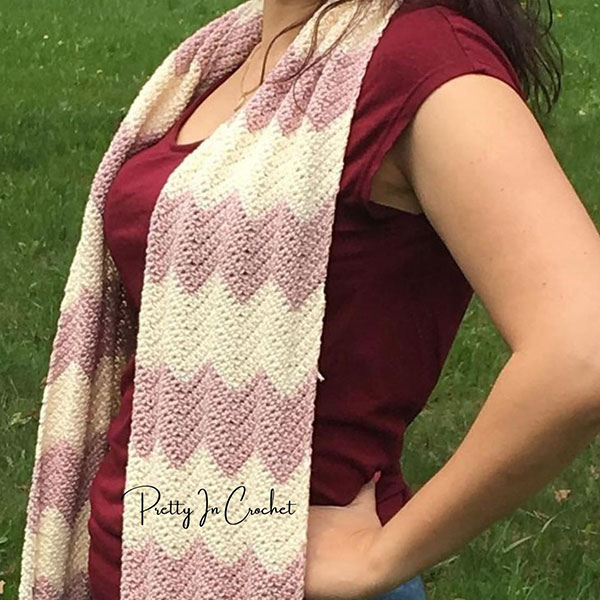 Of course, you don't have to use single crochets to achieve this look. Other stitch patterns likely call for double crochets and that would work up a lot faster. Play around with the stitch pattern and see what works for you, but I liked the way this worked sooo much. This remains one of my favourite pieces even though I have crocheted so many other since then.
Be sure to follow my socials! I'd love to see you in my comments too.