**Updated May 3, 2023**
A few years ago, I decided on a big project–the Big Blanket Scarf. I remember it took me longer than I wanted it to crochet, but I was so determined as I was so in love with the project. Blanket scarves were a trend then, and I hopped on board because I was always cold. And when I would get cold at work, I would stay cold and be miserable all day. I needed layers and wore my crocheted items a lot. So this pattern was really a me project that I thought others would really like. I launched it as a free pattern and it remains free, so snatch it up. It's a good one!
February, 2018, Original Post
The Big Blanket Scarf is a pattern I've been working on for a while now and have been itching to share with you! Made with Loops and Threads Cozy Wool, which is a super bulky weight, this project turned out exactly as I envisioned! To date, it is my favourite design 😀 So Naturally, I am ridiculously excited to share it with you.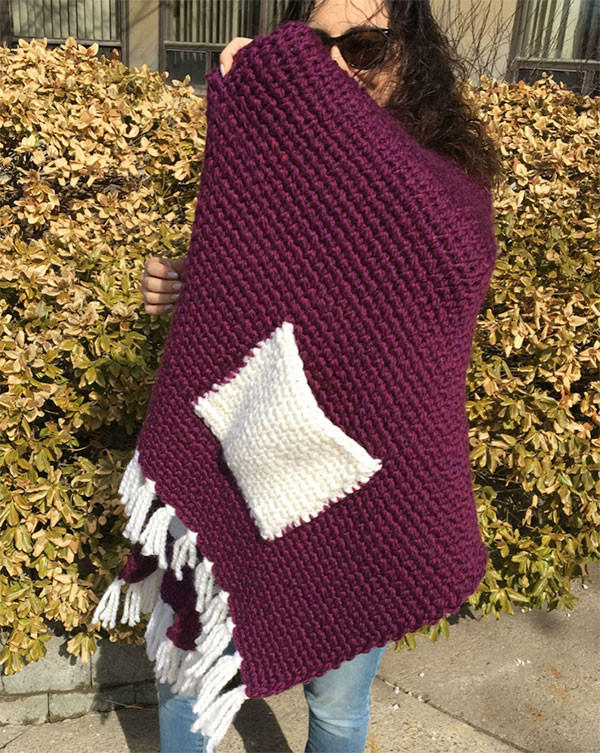 I needed this blanket scarf. You have no idea how cold I get in the winter. My co workers laugh at me and some have expressed concern, suggesting I go see the doctor. My family on the other hand thinks I am being ridiculous, but when you're cold, you're cold and it's unpleasant to be cold for hours at a time. Extremely unpleasant. So I layer up and I decided I needed a big, snuggly piece so the Big Blanket Scarf was born! Really, it's more of a big blanket shawl, but as long as it keep me warm there's no point in splitting hairs.
I was determined to use a yarn that had wool in it and I love the way Cozy Wool worked up. So soft and squishy, it was the likely the perfect yarn for the dense fabric created by the waistcoat stitch, which I chose for it's knit like look.
Big Blanket Scarf
Materials
10 skeins of Loops and Threads Cozy Wool in Clematis
2 skeins of Loops and Threads Cozy Wool in Fleece
10mm/N hook
Craft needle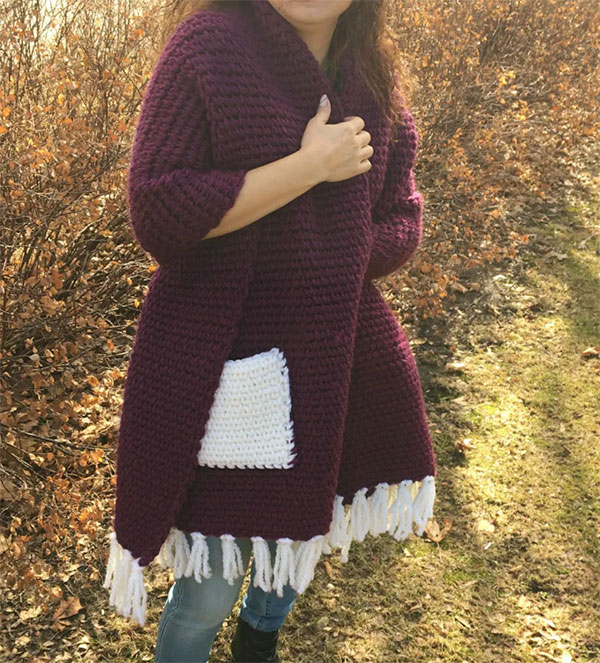 Stitches (US terms)
Ch–chain
Sc–single crochet
Special Stitch
Center Single Crochet–Insert hook into the the legs of the stitch, underneath where you normally would insert your hook. Draw up a loop and complete sc as you normally would.
To begin, chain 42 using Clematis
Row 1: In first ch from hook, sc. Sc in ea across. Ch 1, turn.
Row 2: In first st, center sc, and in each st across. Ch 1, turn.
Repeat row 2 until you reached the desired length. This will vary depending on both your height and preference. I used each of the skeins I purchased but you may need more or less depending.
Pockets (make two)
Using Fleece, ch 16
Row 1: Sc in ea st across.
Row 2: Center sc in ea st across.
Row 3-16: Repeat row 2.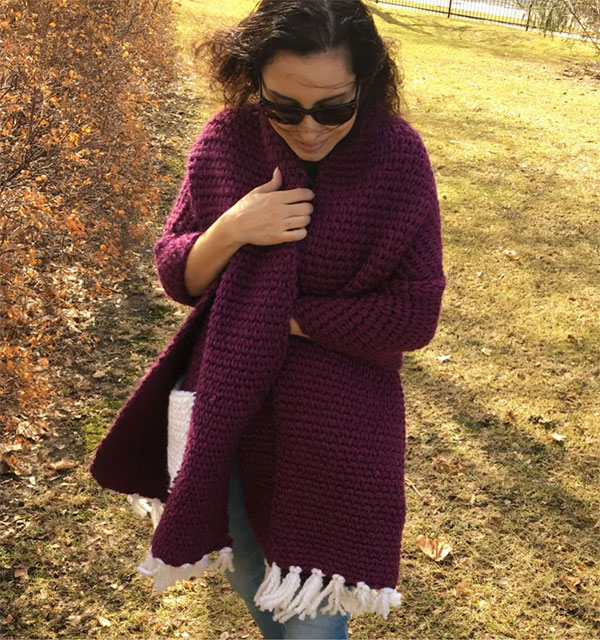 Now to assemble this cozy piece. On one end, count up twelve rows. Lay your pocket on row twelve, and attach using Clematis colour yarn. This is the bottom of the pocket. Sew the bottom and sides. Do this with both pockets. To finish off your blanket scarf, use Fleece to create tassels. Attached to first stitch and every third stitch after on both sides of your piece. The Big Blanket Scarf is now complete!
Be sure to follow me on my socials to stay up to date.