What could scream vampires more than black and red? Being that it's spooky season, I have to say I was inspired, and now I have the Night of the Vampire Wrap. Luckily, you can too. 
*This post may contain affiliate links to support the cost of this blog. At no cost to you, I may make a small commission if you purchase through these links.*
I have to say, I have a bit of a vampire crush. Blame the movie Interview with the Vampire(how sexy was Brad Pitt in that film?) back in the 90s, and when it came to paranormal romance novels, vampires might have been a bit (or a lot) of what I gravitated towards, so of course when I saw this yarn I thought, oooh, vampires. And yes, vampires do come out during spooky season in my mind as much as ghosts and witches.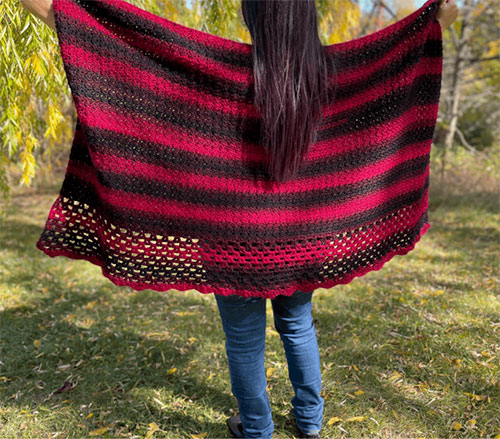 Spooky season is always so much fun—the crisp air, the pumpkins and ghouls and goblins and oh yes, the vampires. I wanted the wrap to be perfect to throw over a little sexy number on Halloween night, and also to be warm and cuddly because you can use this wrap all through the fall season.
Made with Lion Brand's Scarfie, this wrap is warm and squishy and I bet lots of wraps and blankets are made from this squishy yarn. The wrap uses some simple stitches and I found this design experience very soothing because the stitches are repetitive and it's so easy to get into a rhythm with this pattern. The pattern is very beginner friendly as well, so never fear–you can look pretty in crochet this Halloween.
Pattern
I used a 6.00mm hook for this project–it was my first time using my Furls hook–and I had a lot of fun hooking this up as it's an easy repeat pattern and the yarn colour blockedperfectly. I wanted to create something that was cute for Halloween, but that also could be used year round–especially by those who are partial to spooky colours.
I wanted to make something that screamed spooky season and I also wanted to make a functional piece so I chose a chunkier yarn, and what my hook and yarn dreamed up delights me designing easy pieces is where I began as a designer, and what I often most appreciate as a maker of crochet as well.
The wrap can be made longer for those of you who are taller by crocheting more of the lemon peel stitch rows (rows you crochet before the open weave rows) than the pattern indicates. My favourite part of this wrap though is definitely the final row, which is easy and yet such a polished way to finish off a shawl or wrap. You always want a pretty edging I think, on shawls and wraps.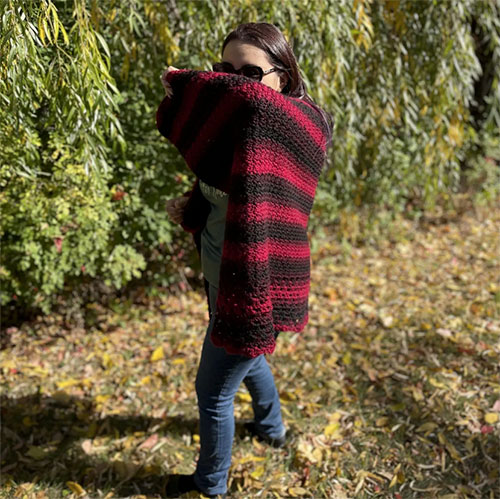 Materials
4 skeins of Lionbrand's Scarfie in Black/Cranberry
6.00mm hook
Yarn needle
Measurements
Gauge: 1 inch = 2 stitches. Gauge is not very important for the finished piece.
Finished Dimensions: 51 1/2″ x 30″
You can find this pattern on: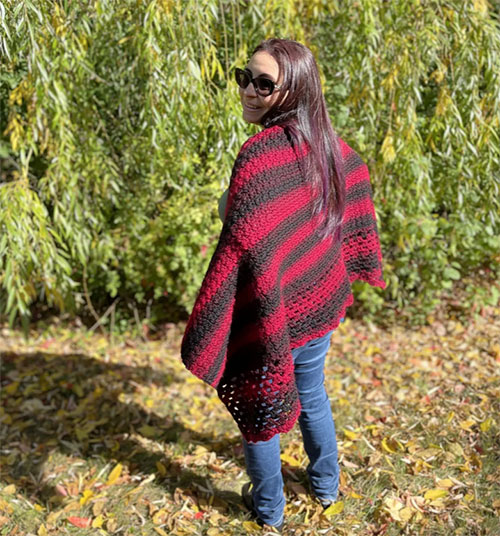 Be sure to subscribe to the blog for FREE patterns that are going to start coming your way this fall and winter!