**Updated May 3, 2023**
This is my first real pattern design. Sadly, it never sold well. It might be the photos. But I continue to really love this piece and wish I had it still (it was gifted) so that I could possibly do it fuller justice than I did when I took the photos. One day, I'll get around to updating some of my older photos. But today is not that day. If you do want to give this piece a try, I'm sure you'll love it as much as I do. It's simple but pretty and that was entirely what I was going for, something that easy enough for a beginner to try but also something that could be expanding their crocheting know how as well.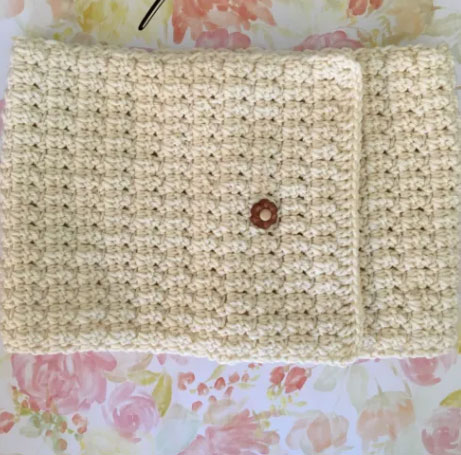 August, 2018 Original Post
Fall may not quite yet be upon us, but this Pretty In Cream cowl will be sure to be your go to on cooler summer nights and as the autumn chill starts to creep into still sun filled days as the leaves turn to gold, russet and brown. Fall is my favourite time of year; I love all the seasons but something about the fall makes me feel like star eyed girl in a romance novel. And if you're going to be that girl, you might as well feel amazing with this soft, sweet cowl around your neck.
The Pretty In Cream Cowl works up easily using a repeating pattern of single crochets and the cluster stitch. The cluster stitch looks elegant and adds some sophistication to any piece, and is actually one of my favourite stitches. Simple and smooth, projects with this stitch tend to turn out stunningly beautiful in my experience.
Using Sugarbush Bliss yarn, a DK weight yarn using merino wool, this will cowl is soft and warm, but light enough that it will not overheat you. I'm always eager to try different yarns and blends, but I have to say Sugarbush is quickly turning into a favourite for me. I have yet to meet a yarn from this company that I did not like. Sadly, since publishing this post a few years ago now, Sugarbush has closed it's doors. You could substitute this yarn with Swish from We Crochet, or any other DK weight yarn that has merino wool.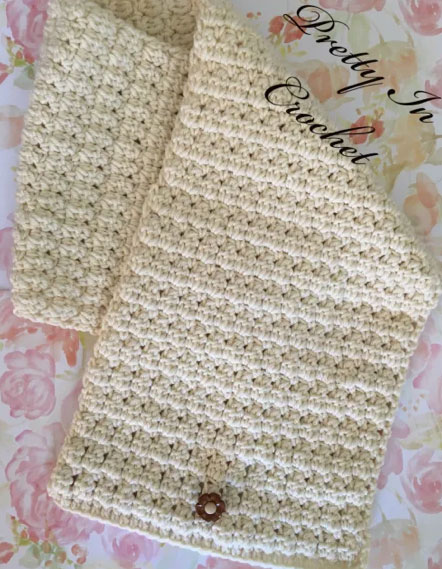 Pretty In Cream Cowl
Gauge
Gauge is not very important in for this project.
4 cluster stitches = 2 inches
Finished dimensions
7" by 27.5"
Materials
4.50mm (G) hook
420 yards DK yarn
One button, your choice
Craft needle
Yarn
Sugarbush Bliss, 4 skeins in Cherished Cream
Stitches Used
Ch-Chain
Sc-single crochet
Dc-double crochet
ClSt-Cluster Stitch
Be sure to follow me on my socials to stay up to date on the behind scenes and upcoming patterns.