When it comes to seeking out crochet inspiration, my go to platform has become Instagram. While I'm not crazy about reels and stories and Tik Tok-ing, I do love the way you can create an entire aesthetic with Instagram photos. And so when I'm looking for inspiration, or just want to delight in all the pretty things in crochet, I head on over to Instagram. By the way, you can follow me by clicking that link, and I would be tickled pink. And there are some awesome accounts out there that really show off their crochet talent (and the beauty of crochet) in a way that is just super inspiring and oh so pretty.
Pretty Crochet Accounts
While there are TONS of crochet accounts out there on Instagram, I wanted to show you some I have stumbled upon and think are just fabulous. Hopefully I will find more beautiful accounts to share with you in the future. I think it's time to dive into the pretty Instagram account, so let's do it! The beauty you are about to behold excites me as I'm excited for you! Yes, I'm a crochet nerd, and proud of it.
MJ's Off the Hook Crochet
As soon as I started exploring Ribblr, I ran into this wonderful crochet designer, and I have to say, I'm in love with her style and patterns. And her Instagram account gives me the feels. It just makes me want to crochet all the things. And, MJ has reels and Youtube tutorials that are super helpful and I have found crocheting her patterns a lot of fun and instructional as well. And as a crocheter, it's always important in my opinion to keep learning and growing in our crafter.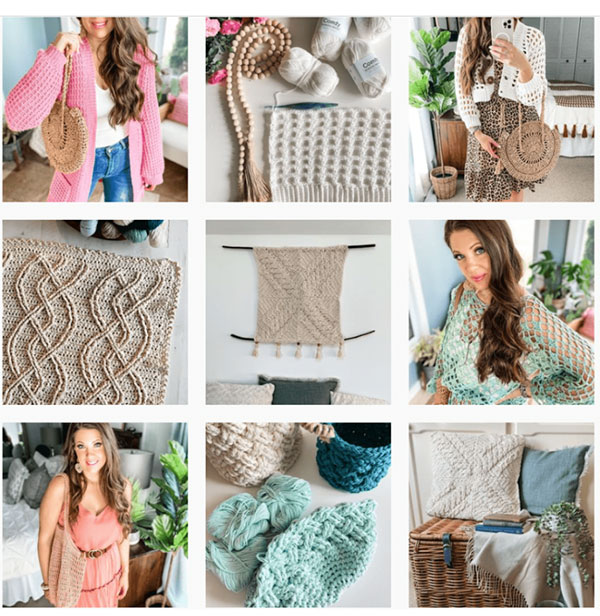 Nancy Made It
This IG account is so pretty with the soft colours and lovely granny style pieces featured, as well as adorable amigurumi. As someone who loves lace, this beautiful account that showcases lacy pieces just delights me. Nancy Made It deserves all the love so do check her out, you'll be soothed and inspired. I could just scroll forever because I can never get enough of these colour combinations and choices and the delicate work this maker has hooked up.
Crocheted By Tess
Next is Tess, who I am truly envious of because look at the intricacy of her crochet work! One day, I will crochet like this. I adore these pieces, and the colour choices are lovely, muted but there is colour, and colour is important to me. The reels are fun to watch and I love her yarn room. I am truly inspired to keep crocheting and keep learning when I check out this amazing account. And you should definitely check out her crochet Instagram account too. She runs CALs and has a lovely blog you really ought check out as well.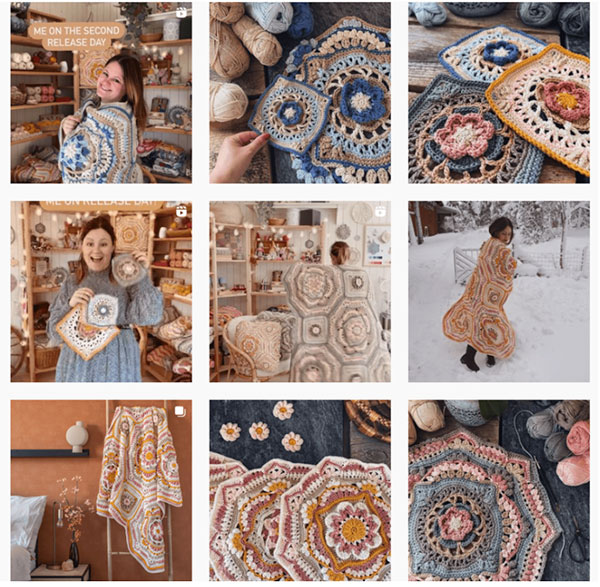 Crababble Crafts
I love crochet wearables, and I'm always amazed by how many cute and comfy pieces we can crochet that we can wear–ponchos, tops, cardigans–they all make me just want to do nothing but crochet, which is impossible with a ten month old baby who loves to be on the move. What I love about this account is both the colours and the beautiful wearables,some of them lacy which just tickles me pink because I'm that girl. Crababble Crafts is an account I'm glad I'm found and follow, and she also has a blog where she shares patterns, which is super awesome too.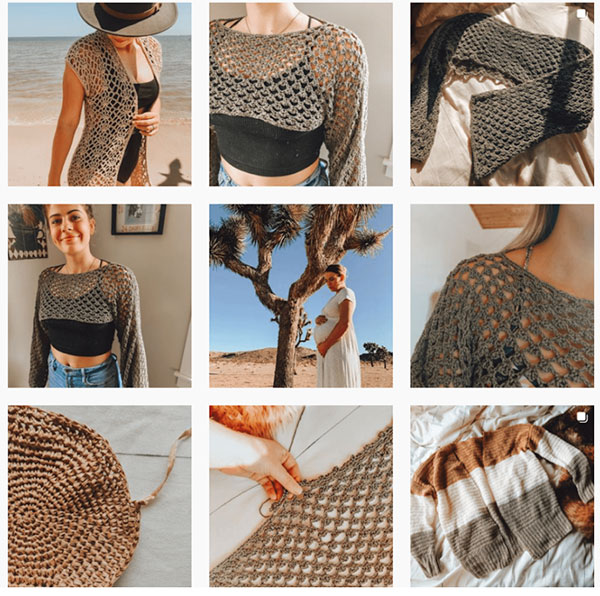 Kathy's Crochet Closet
Another fabulous crochet account I love on Instagram is this lovely one by Kathy, who features a lot of cute bags, many made with in the granny style, and many of them beautifully textured. I love the look of these bags and hats, and I love the colours used as well. I have made a few bags myself, but these make me want to make a million bags. So you can see I'm truly inspired! Kathy's Crochet Closet is so much fun to scroll through, and I'm so glad I stumbled on this polished crochet account. You can also find her on Ravelry.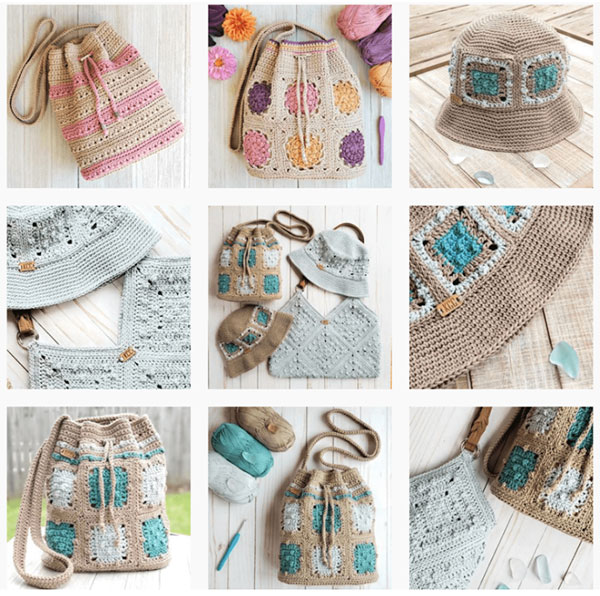 Final Thoughts
I think after seeing these accounts, you can understand why I called my blog Pretty In Crochet, because look how pretty crochet is! And how pretty you can be in crochet! I know there must be a heck of lot more beautiful crochet accounts out there, these are just ones I really love and hopefully I'll find more to share with you in the future. This was a fun post for me to write up, and I hope you have fun crocheting today.
Are there pretty crochet accounts you love on Instagram? Let me know below!