*This post may contain affiliate links to support the cost of this blog. At no cost to you, I may make a small commission if you purchase through these links.*
I love yarn, as I bet you do if you have landed on this post. Like most of us in the yarn craft world, I have a big stash and I enjoy trying out new yarns. Sometimes I am a yarn snob, other times I use value yarn. I'm a mixed bag when it comes to yarn, and I think that's a good thing. There's a place for all sorts of yarn on the market as far as makers go because there is a wide variety of makers. Some want only vegan yarns, others want sustainable yarns, some us go for luxurious fibres like merino or alpaca, still others only want synthetic fibres.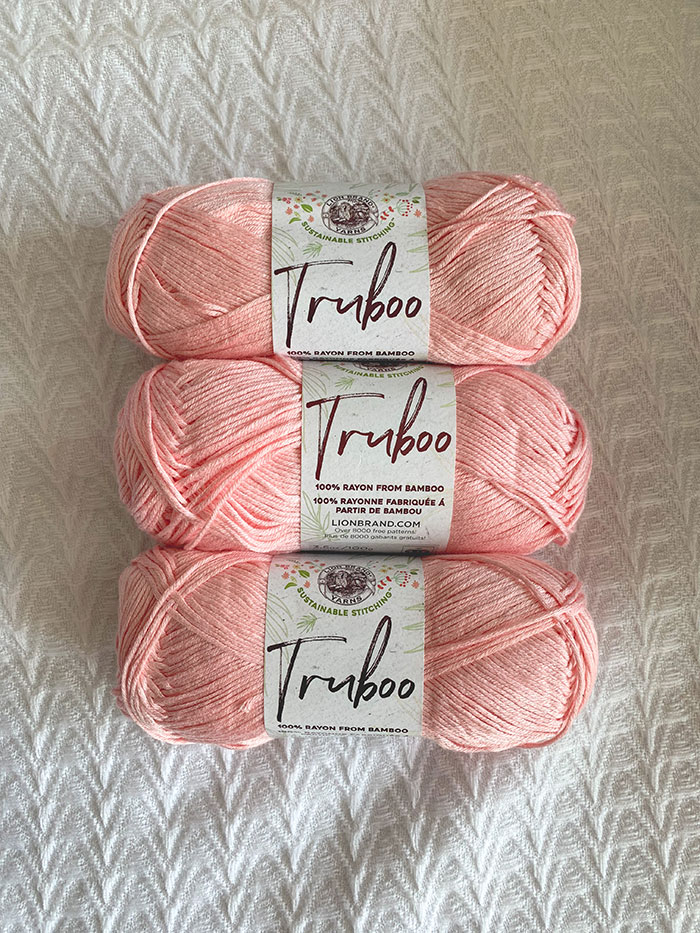 And some of us keep going back to certain yarns, like I do with Lionbrand's Truboo. I mean, when you find a yarn you love, why not use it again and again? I can't remember when I first stumbled across Truboo in my local Micheals, but I was immediately drawn in by the colours (so many bright colours and lovely pastels too) and by the fact that it was a bamboo yarn. Well, once I used it once, I kept using it. Even though at times it was a yarn that annoyed me.
Yarn Specs
Let's begin by talking about what this yarn is all about. It's a lovely DK weight, made from 100% rayon from bamboo. It comes in 100 gram bullet balls, and has 241 yards (220 meters) in each lovely ball.
I already mentioned the colours, but you ought know that there are over thirty colours available. Which means a lot of me because sometimes I find a yarn that I like with a limited colour selection and that always really upsets me.
Pros
Yardage–I like we get great yardage in these cute little bullet balls! For about $8 Canadian, I appreciate how much yardage you get. Two or three of these can make me a lovely scarf or shawl, and that's not bad value for your money.
This yarn has beautiful stitch definition. I mean, the stitch definition is to die for. It's a perfect yarn for shawls and scarves, pieces that you want to add dimension to so really help your makes stand out. And I have made several scarves and shawls with this yarn–check out my Simply Lovely Shawl, or the Lexi Lace Scarf –all of which I love.
Another great feature about this yarn is drapes beautifully. Which makes it perfect for–you guessed it–shawls and scarves! But honestly, I think the drape would also lend itself to a nice summer tank or cardigan as well.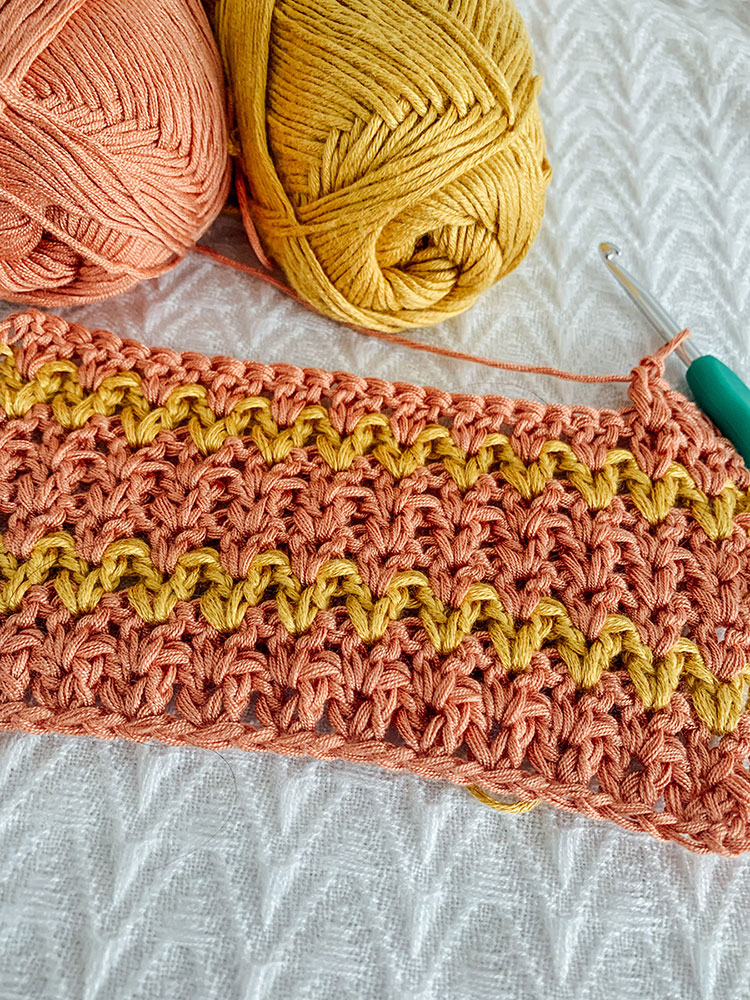 Cons
One major con of this yarn is it's tendency to split. Which I know can put A LOT of people off. It has put me off in the past, but honestly, I just keep getting sucked back into using this yarn because it really is lovely. The yarn is splitty, some might find it slippery on the hook, but I think that both issues can be solved by finding a hook that works for you and the yarn. Having a good hook makes a huge difference in our crochet experience after all. I recommend Clover because in my opinion, they are unparalleled.
I do find that once you are more used to working with the yarn, it doesn't split on you as much, and also, I like it give is a little twist as I'm pulling it up as it is loosely twisted.
Some people find this yarn too shiny and too slippery, but seeing that is down to personal taste, I don't know whether those are true cons or not. I'd say not as other bamboo yarns are also more slippery and shiny than cotton or other fibres.
Conclusions
I think you can tell I love this yarn. I admit, it might not do it for everyone, but if you are looking for a nice vegan yarn, you Truboo is one I'd recommend. I mean, the colours alone!
Follow me on my socials to stay update!