I often use my iPad for work–that is, this blog and small business. It's easy to use during the day when I'm also minding Baby J, and I especially love using it to look up patterns on Ravelry and then as my main point of reference when I am working from a pattern. And for the past several months, I have been wanting to make a sleeve for my iPad, and even started several. However, none of those projects felt quite right to me. It was either the yarn or the colour pooling, or…something.
Until, I dug a little deeper into my stash and found this lovely yarn. It's a DK weight, 100% cotton, and it's so so cute! It's just slightly speckled with pops of pink and brown and grey, and when I first got this yarn (years ago) I made a lovely scarf from it. This was just as I was starting a new job, dealing with some mental health issues and backing away from blogging and designing altogether because life was hard. And after I was done that scarf, I had quite a bit left in stash.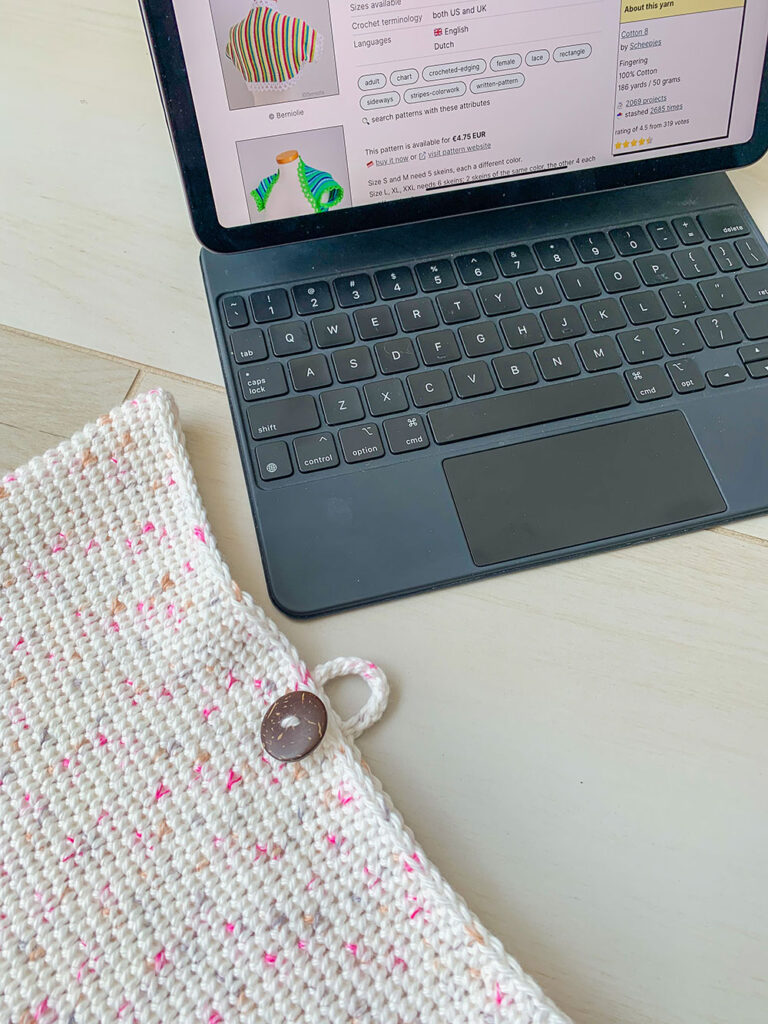 Fast forward to the spring of 2023 and I have used that yarn in this lovely little project! Isn't it cute?? Too bad I had no idea what this yarn was! I took to the internet to find a yarn that I could suggest for you that could be a good dupe BUT I actually found the exact yarn! It's King Cole Cottonsoft Candy DK in Raspberry. And it's available from Wool Warehouse.
iPad Sleeve Pattern
I love the idea of being able to slip my iPad, attached to its magic keyboard and the Apple pencil all into this little sleeve. I want to protect my devices as much as possible, but I also want to love the sleeve and for it to be cute and sweet. Something that reflects me, and when I'm crocheting the colours in this yarn really reflect my mood–bright and happy.
The great thing about this pattern (besides it being free) is that it's really easy and perfect for beginners. There is no seaming, and I love how that design choice made the finished piece look really clean and tidy.
Materials
One skein of King Cole Cottonsoft Candy, in Raspberry
Yarn needle for weaving in ends
One button, your choice
Pattern Notes
For this pattern, do not crochet into the back ridge/back of your starting chain. We will be crocheting into both sides of the starting chain to create the sleeve.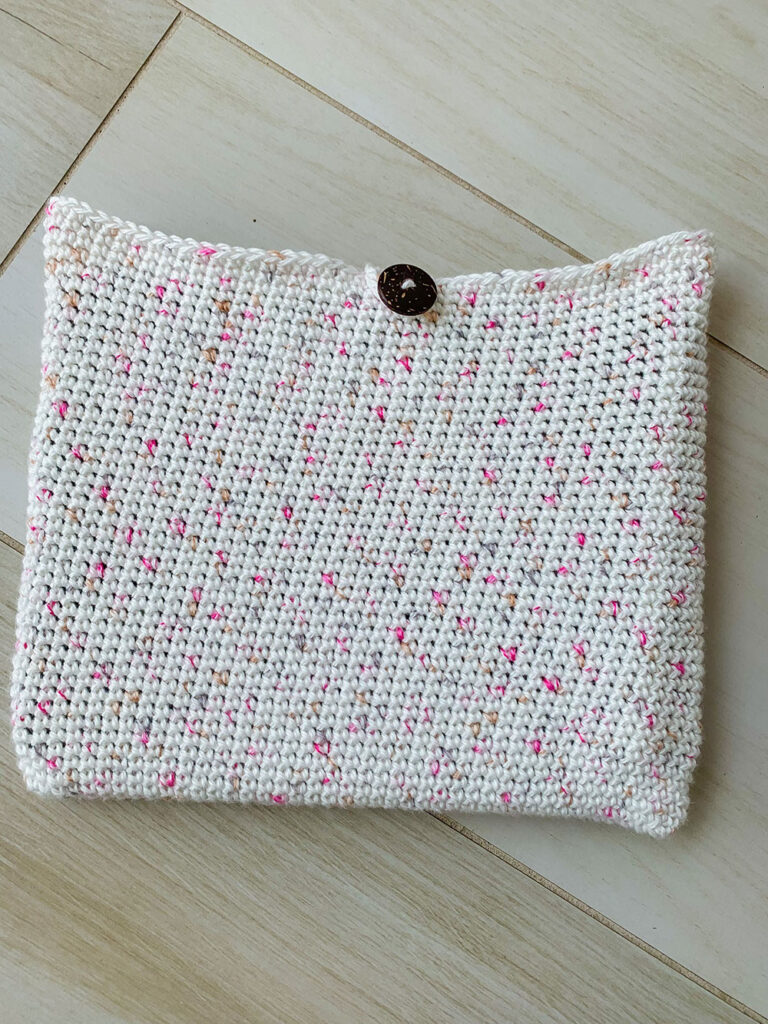 I hope you love this little project as much as I do! It's cute and easy and just makes for soothing crocheting for those days when we don't want to tax our brains too much. Honestly, I love that it's as easy crocheting because sometimes we just want something to crochet that is relaxing and this project was sooo relaxing to design.
Subscribe to the newsletter to get even more free patterns!