Welcome back friends! I did promise some more tutorials and tips and tricks this year, so here I am with a quick and easy granny triangle tutorial. I recently wrote about why granny squares never go out of style, and honestly, granny stripes and triangles and whatever else you can granny will never go out of style either! I especially love the granny triangle because it lends itself so nicely to a basic shawl that can be a fun array of colours, or all one colour or even include a variety of textured yarns for a bohemian vibe that is super unique and eye catching.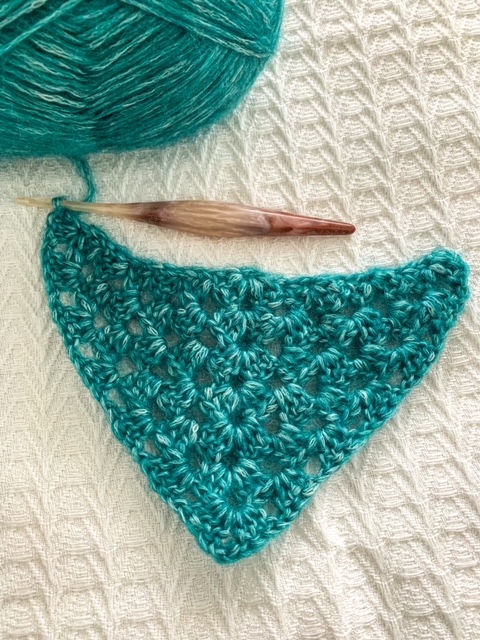 The granny triangle is very easy to make and although there are couple of different ways to create that granny square look, I do have a preferred method I use in recent years. More on that in a bit, in the tutorial.
Granny Triangle Pattern
Begin with a chain of four stitches. Slip stitch to create a loop. 
Pattern Note: Ch 2 counts as a double crochet. 
Also note, that unlike many granny patterns, I don't chain three between each group of double crochets. I chain one instead. This tends to give the project a more finished look with less absurd drape, making it a lot more functional and professional looking. 
Row One: Ch 2, 2dc into ring, ch 1, 3dc. Turn. [You have two groups of 3dc separated by a chain.]
Row Two: Ch 2, 2 dc in same st. Ch 1, 3dc in ch 1 sp, ch 2, 3dc in same ch 1 sp. Ch 1, 3 dc in last st. 
Row Three: Ch 2, dc in same st. Ch 1, 3dc in next ch 1 sp. Ch 1, 3dc in centre space (ch 2 sp), ch 2, 3dc in centre space. Ch 1, 3dc in next ch 1 sp, ch 1, 3dc in last st. Turn. 
Row Four & beyond: Rep Row Three.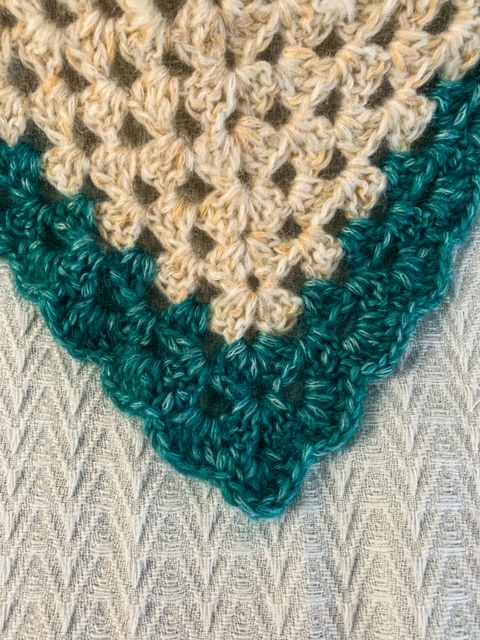 Crochet Patterns are Wordy
I once had a knitter tell me that crochet patterns are wordy. Not being able to knit or read knit patterns, I rather thought that it was an interesting observation. So if the above pattern seems a bit complicated, just remember that's because crochet patterns are wordy—upon further thought on this observation over the years, I've arrived at the conclusion that this is actually very true.We explain exactly what stitches as well as what steps to take in crochet patterns. I would give these same instructions orally if I was teaching a class. But I promise you, if you take a deep breath there is nothing complex about this at all. It's quite straight forward and if you can granny stripe—or even if all you can do is double crochet, you can do this. Promise. 
My Granny Triangle Shawl
I have been working on a granny triangle shawl for a while now, and it's finally finished. I really love it and hope that you do too. For me, crochet is always a labour of love because I'm always thinking about what my audience might like, as well as what I like to crochet and try and marry those two into a pattern or piece that makers will be happy to crochet. For my shawl, I used a yarn that had a lovely halo, but that meant the yarn was sticky (as in, it stuck to itself) and frogging was difficult, so I had to really be careful as I was working this up as I didn't want to frog even a few stitches.
But the finished piece is so lovely that I am glad I stuck with it even though at times it was super slow going. But, if you love the look of the granny triangle shawl, use this tutorial as a way to dive into your own shawl! 
You can use the pattern with any weight of yarn, with any fibre. Just be sure to match the hook size to the yarn weight. Typically worsted weight yarns you would use between a 5.00mm to a 6.00mm hook, a DK weight you would use a 4.00mm to a 5.00mm hook. Check your yarn labels to give you an idea but always play around and see what works for you and what you like when it comes to drape and fabric density. 
Happy crocheting friends! Be sure to follow me on my socials to see even more behind the scenes.