If you are anything like me, you are always looking for new and lovely crochet stitches. There are so many out there that you are bound to find something new and beautiful. There is nothing like finding a stitch that is just so pretty that you immediately want to hook up a sweater using that stitch. Or one that will lend itself perfectly to a summer shawl.
The feather stitch is one I've seen used a lot for dishcloths, but I recently used it for a simple (but very pretty) scarf. Today, I'm going to share both how to create this stitch, and the pattern for the scarf I made.
I made this lovely scarf using Lion Brand's Skein Tones, in Adobe. I used three skeins, and left plenty over for some tassels that in the end, I decided not to add to this project. But you totally could! I think this would make a lovely fall scarf because of this brown-red colour, but I wasn't going to wait until the fall to share this stitch and pattern with you.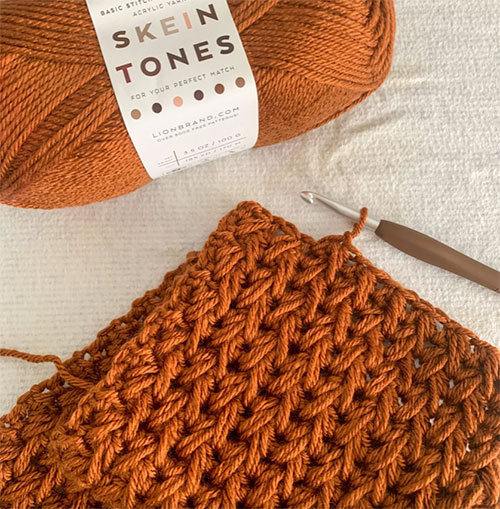 Feather Stitch
You can see why this is called the feather stitch–a completed stitch does have the shape and even look of a feather. I think this stitch is not only pretty, but I love that it works up into a thick and squishy fabric. So it really is perfect for blankets as well. I think a baby blanket would look lovely made with this stitch. And if you have the patience to hook up a blanket that is bed sized, so much the better!
Check out my other how to tutorials as well. 
Materials Needed
Lion Brand Skein Tones in Abode
6.00mm hook
Tapestry needle
Begin with an ODD number of stitches.
Row 1: Hdc in 3rd ch from hook. *Ch 1, sk next st, hdc in next. Rep from * till end of row. Ch 1, turn.
Row 2: Hdc in first st, then *yarn over pull up a loop in the ch-sp. (3 loops on your hook) Yarn over and pull up a loop in the skipped chain directly below (from the beginning chain). (5 loops now are on your hook) Yarn over and pull up a loop in the next ch-sp. (7 loops on your hook) Yarn over and pull through all 7 loops. Ch one to close the stitch. Rep from * to end of row, placing a hdc in the last st. Ch 1, turn.
Repeat Row Two for pattern.
Now, I know it's a very wordy stitch pattern, but it is a lot easier than you think.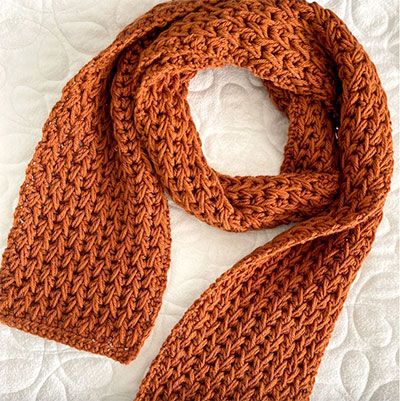 Feather Scarf pattern
Chain 21
Row 1: Hdc in second st from hook, and in ea st to end. Ch 2, turn.
Row 2: Hdc in first stitch, *ch 1, sk next st, hdc in next rep from * to end, ending with a hdc in final st. Ch 2, turn.
Row 3-137: Hdc in first st, then feather st in next st, and across to end, ending with a hdc in final st. Ch 1, turn.
Row 138: Ch 1, hdc in first st, and ea st across till end. Fasten off.
I am really love with this scarf, and I can't believe how squishy and soft it is. Although I decided not to put tassels on it, I honestly think it would look amazing with tassels. Pair this with a natural sweater and white tee and jeans and you have a very causal but chic look. Or dress this up more with slacks and boots. If I wasn't so love with the spring right now, I'd be wishing for fall, but honestly it's nice to have this saved for just that season.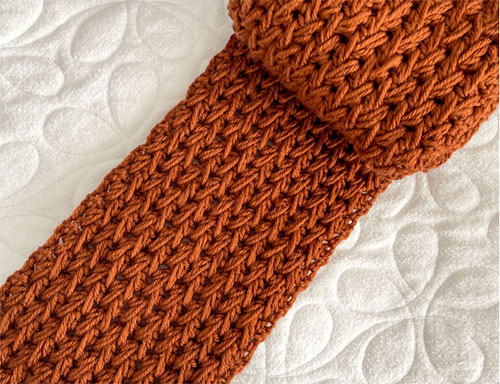 The Yarn
I really do love this yarn by Lion Brand. The colours are lovely neutrals, easy to mix and match together and it hooks up beautifully. Plus, look at the stitch definition! What I like too is that this is anti-pilling, which is so important for an acrylic yarn. I have more of this yarn in my stash, and I'm sure I can use this yarn for a wide variety of projects.
In Conclusion
I am so delighted to share this project with you, and I hope that you love it as much as I do. It's an easy but stunning piece I think, and one that you can easily gift to friend or family as well. If you do hook up this beauty, please use #prettyincrochet on Instagram so I can see your feather stitch scarf.
Subscribe to the newsletter for exclusive crochet content!