*This post may contain affiliate links to support the cost of this blog. At no cost to you, I may make a small commission if you purchase through these links.*
Summer might be coming to an end, but the Sand and Sky Ripple Scarf is reminiscent of summer while feeling like fall with its deep blue and sandy beige shades. The ripple or chevron effect adds a touch of sophistication to this accessory, which will be perfect to wrap around your neck on a chilly fall day. Paired with a black sweater or jacket and slacks, this will likely be your go to scarf for the season as it will compliment almost any outfit. My favourite feature of this piece are the tassels. I just adore the boho feel they give to the scarf and I love how they make this project complete. I hope you like the ripple scarf as much as I do.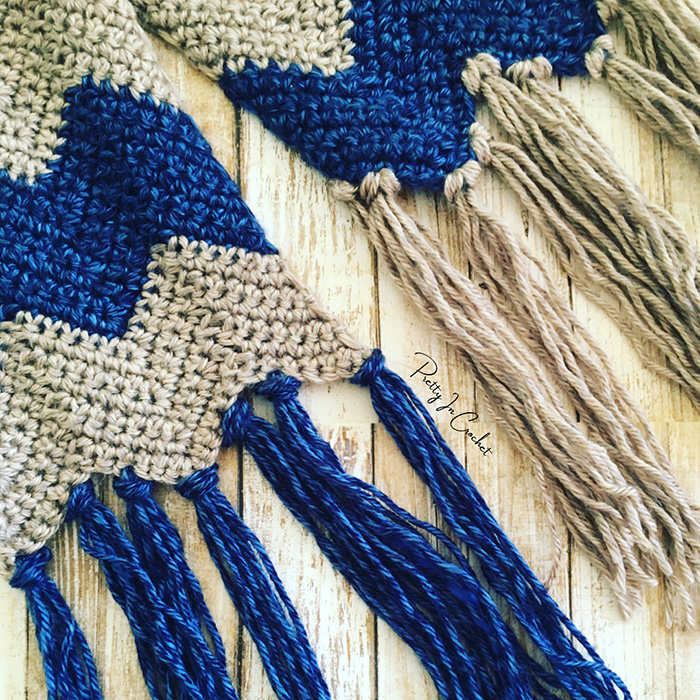 The pattern is for an advanced beginner or early intermediate crocheter, but naturally anyone can try their hand at this. It's easy enough that it could be the project for the beginner crocheter to try as a first beginner advanced project. It requires only single crochets and the ability to count and skip stitches here and there as well as colour changing so it ought be simple enough to master 😉
Using Lionbrand Heartland yarn, which is a softer acrylic, this yarn is two toned and really nice to work with, you'll get a lovely drap with the stitch and some blocking will be required. Don't worry, if I can block, you can too! I use a steam iron since this is acrylic wool and just gently stretch the piece out flat. Do not press the iron to the scarf as it will cause the acrylic yarn to become damaged. You might get some rippling later, but if you try and crochet loosely you can minimize this, although I do like the way the rippling looks with the piece. It seems to flow beautifully with the chevrons.
Sand and Sky Ripple Scarf
Gauge
Gauge is not very important to completed project.
4 rows = 1 inch
Finished Dimensions
59″ by 5″ not including tassels
Materials
5.00mm (H) hook
502 yards of worsted weight yarn
Craft needle
Yarn
Lion Brand Heartland, one skein in Olympic, one skein in Grand Canyon. Each skein is 251 yards so you will have lots left over for the tassels.
Stitches (US Terms)
Ch-chain
Sc-single crochet
You'll hook up your own Sand and Sky Ripple Scarf in no time! It'll be sure to rock your fall wardrobe. I really enjoyed designing this, simple as it is, and hope you find crocheting this mediative and soothing.
Subscribe to the newsletter to stay in the loop!