For many years, I have coveted Furls crochet hooks. They are super pretty after all. But, I also couldn't bring myself to spend over twenty dollars on a crochet hook (USD!) plus shipping. That's a lot of Canadian dollars. For a crochet hook. Now, I don't mind spending money on my craft, but this seemed like way too much. So I never purchased one of these hooks. But, I finally decided to order one hook after watching several Furl hooks haul videos on Youtube and seeing their new Streamline Glitter hook. Glitter in a hook? A pink glitter hook? It must be perfect, so I bought one in a 6.00mm, thinking that then I'd have my Furls hook that was really pretty and hey, treating yourself once in a while is okay.
*This post may contain affiliate links to support the cost of this blog. At no cost to you, I may make a small commission if you purchase through these links.*
Did I Like It?
I wasn't super impressed with the sparkle and look of the hook. It was nice but it wasn't wow and when you spend so much on a hook, you need WOW. But it did crochet very nicely, but no better I thought than my Clover hook. So I was underwhelmed. And I thought, well, I have my Furls hook and that's that. And then I watched more videos…and learned about the Streamline Jupiter hook.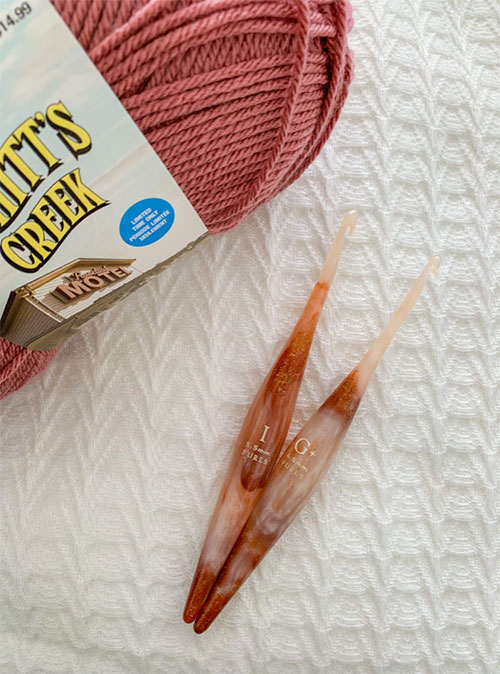 It looked super pretty and I really loved that each hook was unique in the way the colour was distributed throughout the hook–it's like owning a one of a kind. Plus, the colours really were perfect like pumpkin and cream. So I thought, all right. Let's see how this one looks and I bought a 4.50mm because I honestly use that more than a 6.00mm.
Second Impressions
And I fell in love. The hook was stunning. Absolutely stunning. Even my husband commented on it–and he still refers to crochet as knitting! And crocheting with the Furls hook was like heaven, which was odd after my experience with the first hook (must have been the yarn of course) and I loved the look of it as I crocheted.
From there, it kinda snowballed. I found out about a 3 for the price of 2 sale and so ordered three more hooks and I love all of them! What I've discovered is that the yarn feels like butter as you hook along through your project and it's such a nice feeling as you work. Plus, I began to appreciate the shape of the head of the hook. It reminds me a little of the Susan Bates hooks, but with a touch of the Clover thrown into the head as well so it feels like it combines the best of both worlds. I bought more Streamline Galaxy hooks, in Polaris, Jupiter (again) and Andromeda. They are all gorgeous. Simply gorgeous and are heaven to crochet with. Just as good as my Clover hooks which I love and of course, still use.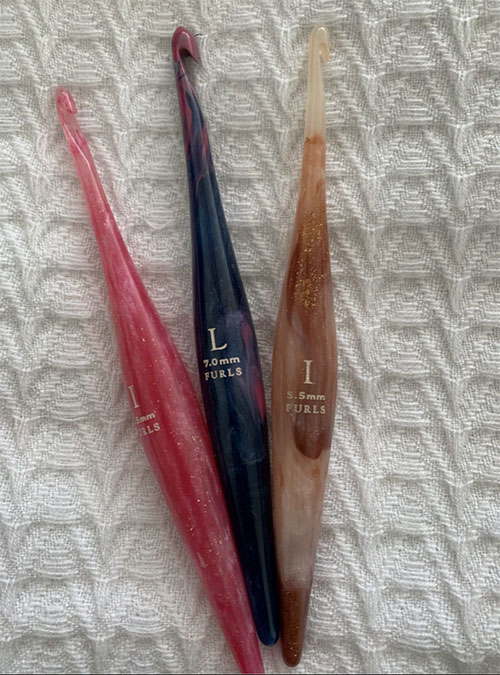 Worth the Money?
Honestly, I love the hooks. They are very pretty, custom hooks that crochet beautifully I probably will buy more hooks in the future. I do think if you are looking for a really great hook that is beautiful, Furls is worth the money because they aren't just eye candy, they are functional too. They really are wonderful hooks and I think they have something to suit everyone's aesthetic taste.
I am not sorry at all I bought all these hooks. I love them. Furls are hooks I would buy in the dozens if I could. I've only worked with their resin hooks and they also have wood and metal hooks, so there's a ton of choices for every crocheter who wants a stunning hook within the brand. Also, Furls often has sales and deals so personally, I'd keep an eye out for those because saving some money is worth the wait.
To be honest, I am kinda talking myself into buying more…though I really shouldn't, but when you find something pretty and functional and so easy to work with, it's hard not to want to get multiple sizes in various lines. I really do love the resin hooks in the Zodiac and Galaxy lines, so it's quite possible you'll be seeing more of Furls hooks in my Instagram feed. I mean, why else do I keep going back and looking at Furls hooks? Likely once a new one drops that I love, I'll buy a hook.
Do you have Furls hooks? Share your thoughts in the comments below.