Happy summer time everyone! Summer is officially here in Canada I think, at least in this southern part where I live, and the weather has gotten a lot warmer and the sun is out and the skies are blue. And with the sun comes sunscreen season! While we always slather on the sunscreen if we are heading out to the beach or pool, it's important to remember to wear SPF daily on your face even if you are just running errands or playing with the kiddos in the yard. I make sure to wear a moisture with SPF now that it's sunshiny outside (though I'm told I should be wearing it even during our grey and colder months as well) and I've always been super diligent about washing off all of my makeup before bed.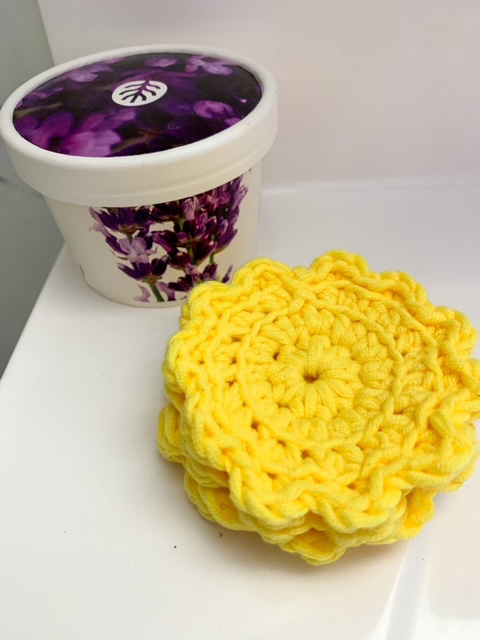 *This post may contain affiliate links to support the cost of this blog. At no cost to you, I may make a small commission if you purchase through these links.*
I had made myself some little scrubbies earlier in the year, but of late I've decided I need more. So I decided that this time around, I would design something cute and functional and share that pattern with you all—for free!
Since it's summer, I decided to use a make these scrubbies a bright sunshine yellow. Since I'm making my own scrubbies, why not make the whole rainbow right?
Sunshine Scrubbies
I decided to use Loops and Threads Cotton Capri (which has been sadly discontinued, recently I believe so I'd recommend Caron Cotton Cakes as a subsection since it's very similar in fibre content) because I've used it before for washcloths and it washes well and is nice and soft, which I appreciate since I am using these on my face. I also wanted to use this since I had it in my stash and I like to use up scraps when I can as I hate waste.
To be honest, I didn't used to see the value in making my own scrubbies. I bought make up remover pads at the pharmacy and that of course, works very well. But when I wanted to switch to reusable ones, I ended up buying a little set that feels rather rough on my face. I still use them, but I decided I should make my own since I didn't really like what I was finding in the stores and I'm so glad I did because the ones I make are so much softer and wash nicely in the washer. Win win!
Gauge is not important to this project and in this instance, I've chosen not to give it as it's really difficult to measure gauge accurately in such a small project. I'd rather you'd not worry about it as a scrubbie that is bigger or smaller than mine will still serve its purpose for you.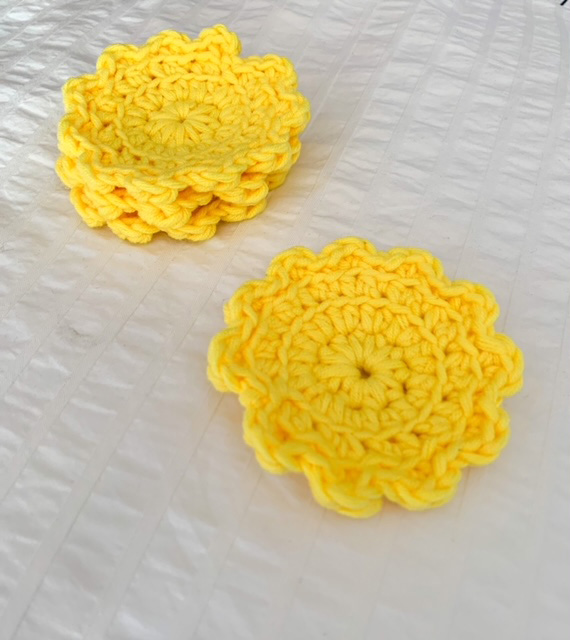 Materials
Yarn: Loops & Threads Cotton Capri
Hook: 5.00mm (you might want to try this lovely Furls hook)
Measurements
Gauge: not important to the project
Finished Dimensions: 3″ x 3″
The lovely thing about this pattern is that you can make so many of these. They are perfect for you, as a gift for a shower or a housewarming, or even to someone who just needs a little extra self care like the new mom. Plus, they bring you the joy of crochet. Which, in my books, is just perfection because nothing keeps me as calm and happy as when I have a hook and yarn in my hand and am creating.
Please share your creations with me on Instagram by tagging me, I'd love to see your work!