Crochet baby beanies are really popular and seeing that it's fall and what better time of the year to crochet your little one a little something adorable than the season of cool breezes and trick or treating and falling leaves? Being a mom myself, I often look at cute patterns for kids, so I decided I needed to make my own little toddler (is thirteen months a toddler?) his own adorable beanie hat. And I thought a teddy bear would be the perfect hat for my little Baby J.
While I was pregnant, I didn't crochet much for my baby. I sort of meant to, but thought I had time and then late in my second trimester I got pregnancy tendonisitis and my hands swelled. It was difficult doing certain things since my joints hurt, and crochet was one of them, so all I got around to making was a couple of baby blankets. I also made him a couple of new born baby beanies, and now I've designed this crochet baby beanie especially for him.
I decided to use Lion Brand's Skein Tones for this project because I already had it in my stash and because the colours were perfect for a little teddy bear. I really like this yarn, so if you haven't tried it out yet you might want to as it's easy to crochet with and pretty darn nice.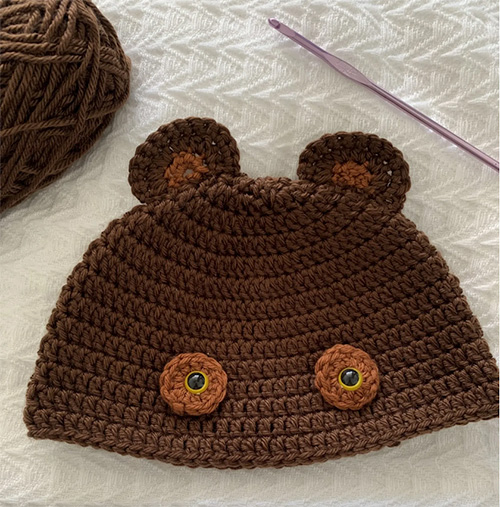 I only used two colours for this project, Cacao and Abode. I also decided to use button eyes for the eyes so you'll need two buttons for this project, although you could always use the French knot technique as well.
Using a basic stitch and a smaller sized hook makes this hat really close knit (or crocheted in this case) and is perfect for the fall months. I used one of my favourite stitches, the half double crochet.
Teddy Bear Beanie Crochet Pattern
This crochet baby beanie fits my 13 month old, and I would estimate it would fit 10-15 month old. You could adjust the size to make it larger by adding more rounds with an additional 12 stitches in each round before beginning the rounds that will give the hat it's shape. Or, crochet fewer rounds to make it smaller.
Materials
One skein each of Lion Brand's Skein Tones in Abode and Cacao
4.00mm hook
Two button eyes
Yarn needle for weaving in ends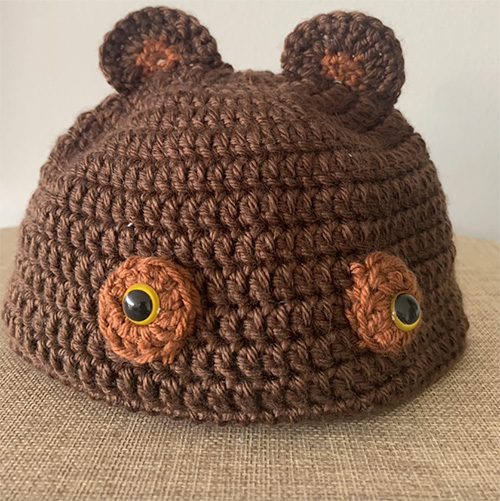 Now Baby J would not let me take any photos of him with the hat on—he thought it was a gameand kept pulling it off—but he looks super cute with the hat on. And we had fun with the failed photoshoot so it's win win.
I love that crochet lends itself so well to all sorts of projects—from cozy blankets to adorable toys, there is seemingly nothing you can't do with this craft. More patterns are coming soon; I've been working hard behind the scenes to get out a ton of fall projects. To stay up to date on that, you might want to follow me on Instagram. I do share a ton of photos as patterns are in the process and some stories of both my crochet life and real life. So come on and join the fun!
Be sure to subscribe to the newsletter for behind the scenes content!