Crochet wearables are something I want to make more of. As of this moment, I have completed exactly two crochet tees, which is truly sad as I have had plans to make so many more for quite a while now. However, while some projects were doomed, others are still in the works and will be completed. And I learned a lot making wearables in the process. Some of it was super important, like why gauge swatching is essential, others were just little things like, read the pattern before starting. Because sometimes what you think is going to happen next in a pattern just isn't.
But you'll see those projects at some point when they are completed. Today, I want to talk about crochet wearables I want to start this fall. Like all crocheters, there's always a shiny new project I want to start, even though I have so many on the hook already. I totally think ALL of these will be trending this fall.
Goldenrod Wrap Top by Earthtricks
This pattern was one I was dying to get my hands on, and it's currently on my hook! It's customizable, lacy, pretty, and perfect for fall. I chose to make this in a deep, brunt orange because I think it's a great fall colour. I am honestly in love with this pattern as you can make it so many ways—the choice of sleeves being only one of the options. I just think it's super original and I have a feeling this will work up quick as well. If this isn't trending this fall, I don't know what will.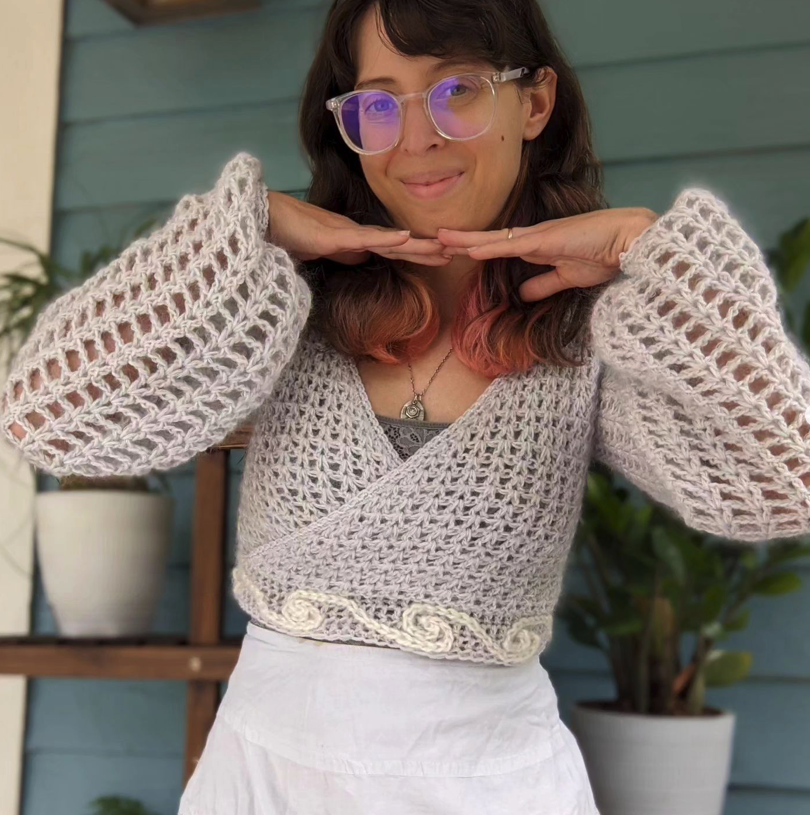 This sweater is amazing in my opinion! I don't think I've ever seen stripes used in quite this way, and I think it's a really lovely piece. The colours used by the designer are making it on trend, but you could make this with more neutral or muted colours and have a piece that will last you several seasons or even years. Personally, I'm drawn to the sweater but I love that there are options with these patterns.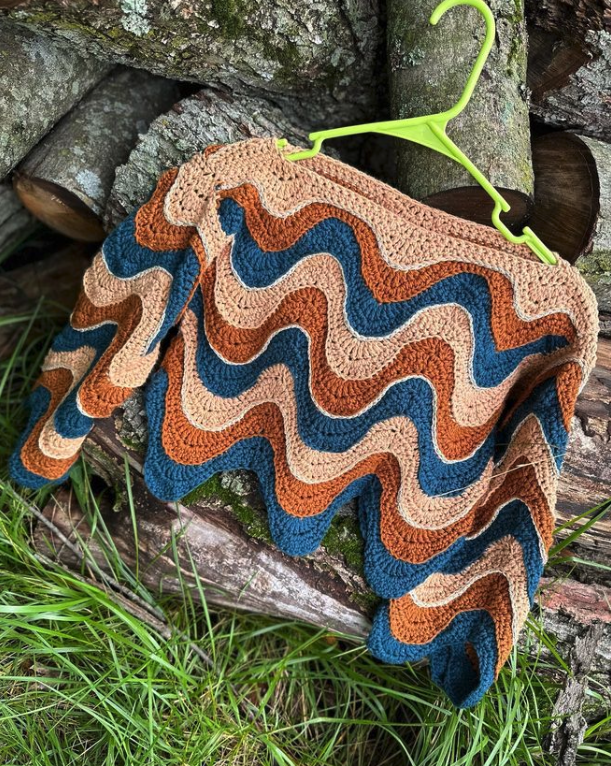 Granny Square Cardigan
The granny square cardigan has been on trend for a while now, but I think it will continue to be because granny square are timeless. I don't have a specific pattern in mind for such a project, but I do think it would be fun to hook up a cardigan using granny squares—they are cute and such classic—and such fun to hook up.
Suggested for You: Why Granny Squares Never Go Out of Style
Others I Would Love to Make
I have to say…I think three projects in the fall season—when we are already well into September—is already too ambitious. I doubt I'll get more than one done! However, there are others I'd love to make that I think will be trending this fall.
They are:
Fairy Duster by TL YarnCrafts.
Desert Dunes by Crabable Crafts
Good Vibes Cardigan by Katrina Designs
Lovely Lace Sweater by Briana K
Each of these has something just bang on about it—some are timeless like Briana K's Lovely Lace Sweater with it's look alike knit stitches that are really crocheted, or the mesh and open weaves of the Fairy Duster and Good Vibes Cardigans. The slouchy, comfy feel of the Desert Dunes top will always be on trend I think. I wish I could make them all—but alas, I don't always have the time or will power. Wearables are still projects that I find require a lot of brain power and patience and are not always easy stitching. But I am working towards one day being able to hook myself up the coziest, trendiest but also timeless pieces.
What do you think? Will these be trending this fall season?