This year, I was determined to design my own pumpkin for the fall and spooky season. I have long admired fall decor, and when I discovered crochet pumpkins I was immediately in love. I crocheted some last year, and designed a little pumpkin myself, but this year I wanted to create a larger, more pumpkin-y pumpkin. So I started designing early in the season and after some agonizing hours of designing and re-designing I finally got the look and shape I wanted for my pumpkin.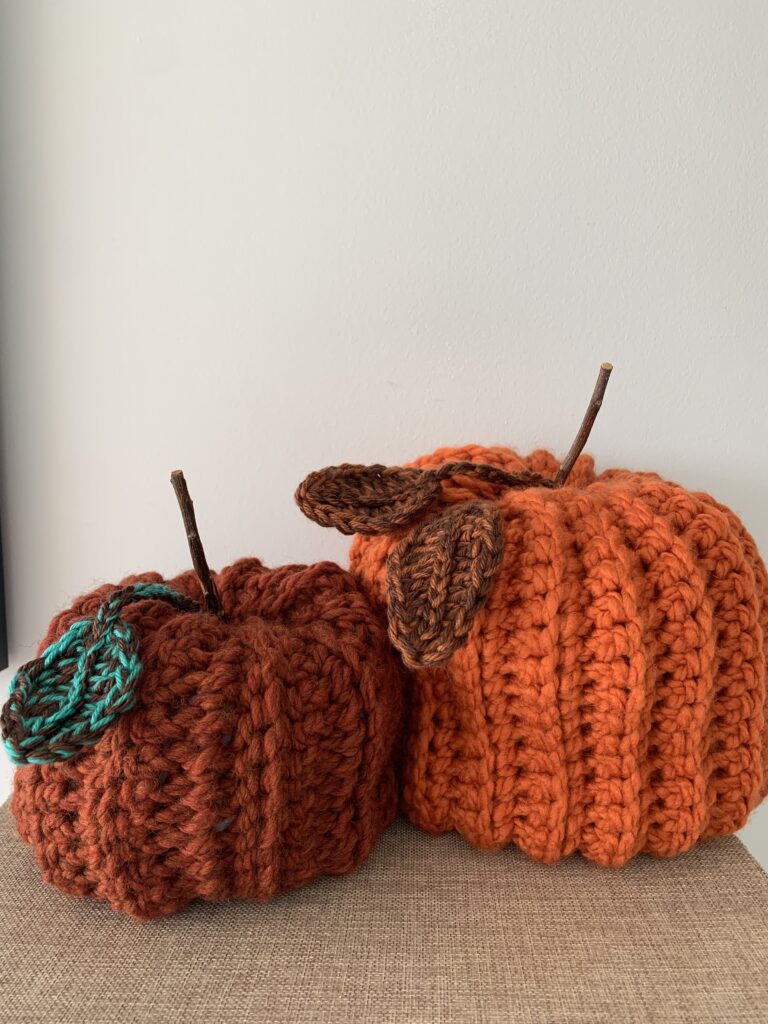 I decided to call the pattern Baby Boo because let's face it, that's just cute. But also because it sounds Halloween-y while also being the name of a type of white mini pumpkin. So it all tied together nicely in my mind, and I hope the pattern. It's really simple, but it works so well to create the pumpkin that I've fallen in love with its simplicity, even though initially I was working with a more complex stitch pattern.
I hope that these pumpkins can adorn the new home that I am moving into in just a few days, and I was very happy to take some orders and crochet these for some friends who admired these cute Baby Boo pumpkins.
Pattern
The pattern uses chunky yarn, and for these pumpkins I used Lionbrand's Wool Ease, Thick and Quick. I found that they have colours that lend themselves nicely to pumpkins, having different creams and whites and a couple of oranges and other fall colours—though of course if you want a blue pumpkin, you can totally do that as well. It's your pumpkin after all. You'll need a 8.00mm hook as well, and just one skein of yarn.
The pattern uses simple stitches and provides you with instructions on how to crochet the closures, so this pattern is one that anyone with basic crochet skills can work up.
I decided that to really finish off these pumpkins that they needed stems and leaves. I crocheted the leaves with worsted weight yarn held double. I used Lionbrand's Skein Tones because I had several colours lying around and I honestly think the leaves make the pumpkins. For stems I chose to use applewood sticks and I really love the overall look of the Baby Boos.
Materials
One skein of Lionbrand's Thick and Quick
8.00mm hook
5.00mm hook
Scarp yarn for the leaf
Yarn needle
Apple wood or cinnamon stick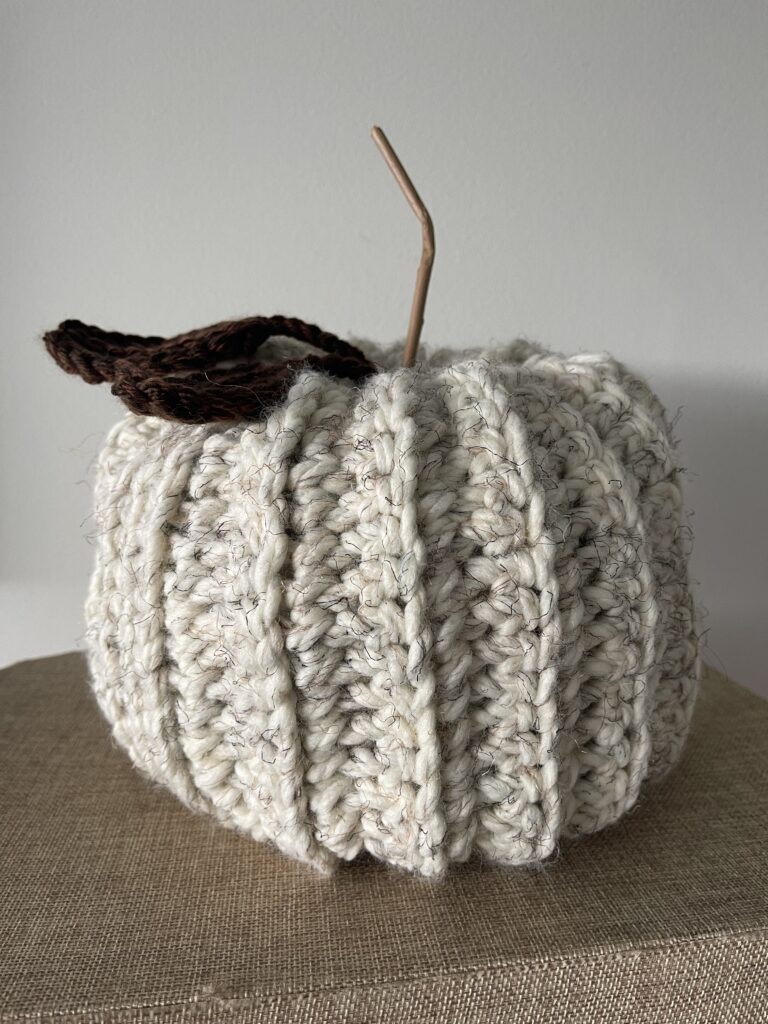 Measurements
Gauge is not at all important for this project
Two sizes, large and small are provided for this pattern
I hope that you love these are much as I do, they are so perfect to bring that cozy fall season feeling into your home or office. Happy crocheting and happy fall!
Follow me on Instagram to stay in the loop with all of my makes and crochet life.