Anyone who knows how to crochet has crocheted a granny square at one point in their life, whether you're 17 or 70 and that's because the granny square never goes out of style. Granny squares are easy to crochet and are fun too, because you can play with colour and there are so many lovely granny square variations. Granny squares are immensely versatile and can be completely boho or very elegant. And no matter whether it's the 1970s or 2023, granny squares are always popular with crochet makers–and designers. Granny squares continue to pop up in my Instagram feed and I honestly love seeing the many creative ways in which they are used by makers and designers.
Iconic and Versatile
One of the reasons I believe that granny squares never go out of style is that it is iconic–it's a corner stone if you will, of crocheting. Granny squares are beginner friendly and so have graced the homes of generations in the form of blankets. Over the decades, the granny square has been used in in many other projects other than blankets, and have branched into squares with motifs at the centre. Many of the projects using granny squares are super easy, while others are more complex and require a little more technical work, such as overlay squares.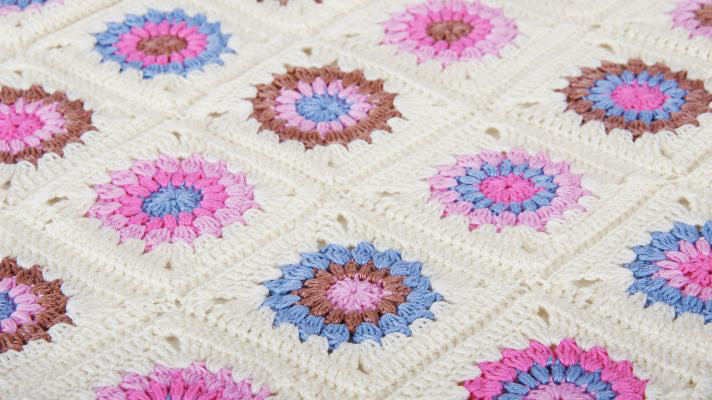 The versatility of granny squares is another reason the granny square never goes out of style. Blankets–both easy and complex, both colourful and varied in colour as well as uniform and organized. Ponchos, shawls and sweaters can be made from granny squares as well as bags and purses. It seems there is nothing a granny square can't do. The granny square might scream boho in some projects, but it is also elegant and lovely. So yes, your grandma might have crocheted these, and yes her blankets might be retro, but you can also find projects that are modern and chic and on trend featuring granny squares.
Amazing Learning Projects
I love the look of granny squares. I haven't played with them much granny squares, but I am always drawn to them. The reason I haven't done much with granny squares is because when I first started crocheting again in earnest around 2010 or 2011, I decided to try crocheting a granny square blanket. I had a dozen or so squares crocheted and decided to start joining them. Only to discover that my tension was all off and I couldn't align them and so the project was bust. This was before I knew about the join as you method and even, if I am mistaken, Pinterest and certainly before Youtube was a thing. 
Suggested for You: Simply Lovely Shawl
After that, I always felt that granny squares were just too much work for me and never bothered with them again. But, my love for granny squares never wavered and for me, they never went out of style. 
Working with granny squares is great for growing your skills as a crocheter. Besides forcing you to pay more attention to your tension and gauge, they also push you to learn how to join and seam crocheted pieces together. There are a variety of ways you can do this of course, and playing with those techniques grows your skill set. At the time, I didn't realize any of this. Knowing what I know today, I'd be checking my gauge, and I'd also opt to use a natural fibre like merino wool or cotton for a granny square project to make blocking easier.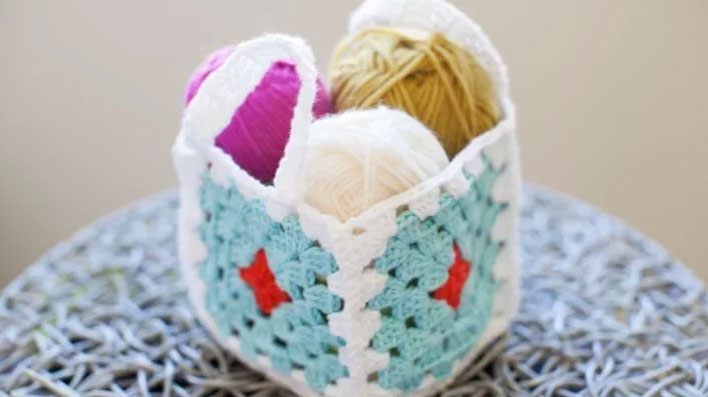 Since granny squares are great learning opportunities, so of course this makes them popular for crocheters. Learning the granny square taught me how large open spaces were created in crochet, something I always wondered about when I was younger. I had no idea you could use chain stitches in the way that they are used not just in granny squares, but also in lace stitches. Again, this was before the internet became the teacher of thousands of crocheters.
Budget Friendly
Let's face it, yarn isn't cheap. And when the granny square first came on the scene in the1800s (exact dates vary from Victorian times to settler times, which technically is another century altogether), yarn was neither cheap nor readily available. This made the granny square immensely popular because it could be crocheted with scraps of yarn making the granny square affordable. And today, many makers use scrap yarn to make a variety of projects using the granny square, whether it's a blanket or a cardigan or whatever else we put our minds and hooks too. 
While there are many cohesive granny square projects out there with a specific colour palette, the granny square can be any mish mash of colours and still serve a functional purpose. It's win win for all makers. 
Conclusion
Granny squares never go out of style, and continue to be fashionable in crochet. They are lovely for cohesive projects, fun for projects that are more on trend or boho and just so much fun to hook up. I love the sense of accomplishment I feel once I've cranked out a granny square and the anticipation of assembling the pieces into one final, glorious piece. 
Why do you love granny squares? Share your thoughts in the comments and be sure to follow me on Instagram and Facebook!