*This post may contain affiliate links to support the cost of this blog. At no cost to you, I may make a small commission if you purchase through these links.*
This spring and summer, I've been really drawn to some very pretty crochet wearables. I use to scroll through patterns of crochet shawls, oohing and awwing over the images of simply gogerous shawls. I made a ton of them too because that's what I wanted. But right now, I'm in love with wearables and I wish I could crochet faster becabuse I want to crochet so many amazing and pretty crochet wearables. I am working on two currently that are about half way finished each and I did complete one crochet tee already. But I am eyeing tons more and wanted to share with you what has caught my eye since wearables are so very in at the moment.
A Word about Gauge
Before we begin, let's talk about gauge. I've always been one of those crocheters who shrug at the idea of working up a swatch and just dive right in. Gauge was not something I bothered about at all. But…I know plenty of you are cringing as you read these words. And that's okay because I was making (mostly) shawls and scarves and hats using the same weight and hook sized recommended for the pattern, or simply designing my own pattern. It was a non issue for me.
However, I am not going to get away with diving in without making a gauge swatch when making wearables. You definitely must do a gauge swatch when crocheting a wearable or will likely not fit as the pattern says.
Why is a gauge swatch important?
First of all, it's important to note that gauge is a measurement of your tension in crochet (or knit) and therefore, in a wearable it's important to make sure your gauge aligns with the designer's so that you can tell with certainty that your finished piece will match the designer's size. If you just willy nilly it, you might end up with a sweater that is too long or too short or even, too tight.
I will always do a gauge swatch for a crochet wearable for this reason, and you should too.
Tulip Square Sweater
This is a kit offered by Lionbrand, and why yes, I did order it. I mean, it's perfect for fall, which it will likely be before I start the project, and just look at it! I've always wanted to do a big granny square sweater or cardigan and this one…I mean it is perfect. Heavier weight yarn means it'll work up faster, the ribbing is a nice touch and I just had to have it. So this is one I bought, and hope to feature soon for you.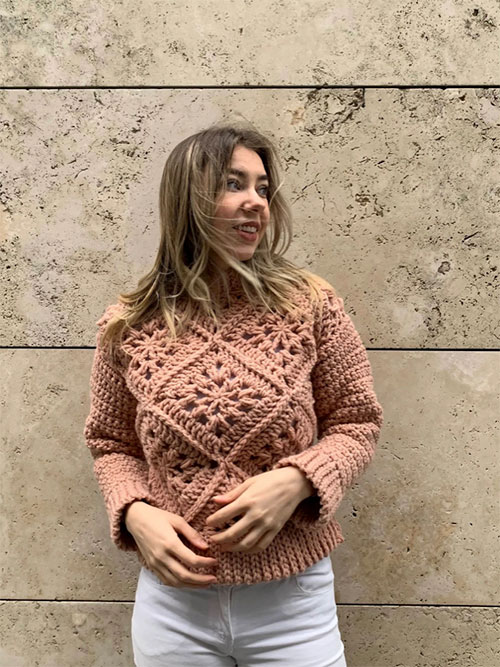 Bobblet tee
This is I found on Etsy, and it looks super cute and chic, and I think it will work up quickly. It's from Crab Abble who I follow on Instagram, and I bought it when she had a sale in her shop one day. I don't have the yarn for this yet, but I am thinking it would look cute in a soft baby pink. I'm undecided as to what colour I will hook this up in. It's a project I want to hook up, but not immediately.
Suggested for You: Crochet Wearables I'm Hooking Up
Stephanie Erin
I cannot believe the beauty of these designs! Stephanie Erin blows me away, and there are so many patterns of her that look amazing in photos (and I have heard her patterns are very detailed, easy to understand and have size inclusivity and adjustability) that I have no idea which I would buy first. I love the lace on her dress, her off the shoulder tops and the lace work like crochet on her sweater and I could just scroll through her Insta feed all day long. Honestly, for pretty crochet wearables patterns, you can't go wrong with this designer. I also love the fact that we are neighbours as she's local to me here in Canada, living in Toronto.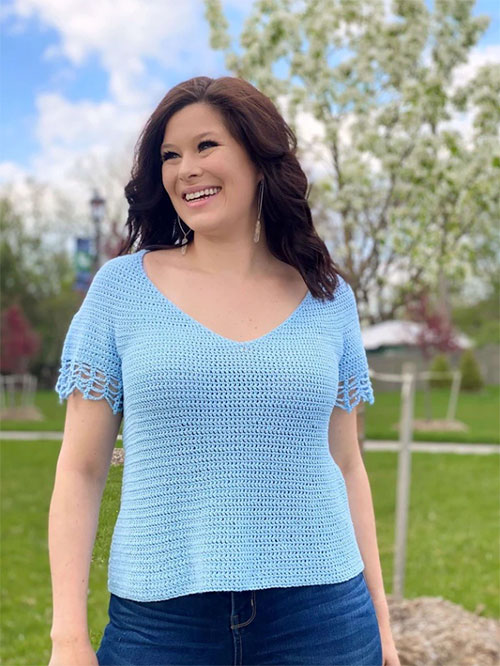 Desert Stroll Tank
I stumbled across this pattern on Pinterest naturally, and was immediately in love. You can find the pattern for free on KnitsNKnots and I can't believe how detailed this free pattern is! You can also purchase the pattern so you don't have to constantly go back to the site and the links for purchasing are in the blog post. I just love the pretty but simple look of this elegant little tank top. She's also a Canadian designer and it really tickles me pink that I'm finding so many amazing Canadian designers.
Go With the Flow Poncho
I really love this sweater! It looks super easy but super on trend and yet will likely always have a place in your wardrobe. Offered by Heart Hook Home, this is another pattern I found on Pinterest that I absolutely love! Easy and breezy, you could wear this over a tank in the warmer months and a long sleeved tee in the colder months, which I intend to do myself I when I make this. It's a very pretty crochet wearable.
Final Thoughts
If you have been afraid to starting a project for a wearable, I totally understand! They are large, daunting projects and I know it's easy to look at a picture and think, I could never make that. But, I think you—and me, because I'm like this too—can. I have made some mistakes in the wearables currently on my hook, and I know that it won't be noticeable to anyone but me so I'm not stressing it. And honestly, the last wearable I made went fairly smoothly. Crochet wearables can look complex, but there are lots of resources out there—including the designers themselves—to help you as you hook up the project and make it just as pretty as the picture you see. So don't be afraid!
Which of these wearables is your favourite? I'd love to hear your thoughts!