Crochet has been hot this summer, and all of us who have been digging crochet for years are giggling at how crochet has taken the fashion world by storm. What used to be considered grandma's craft is now the chicest trends around. Crochet wearables are everywhere and I'm itching to start sporting some crochet wearables for fall already. I mean, I'm a fall girl. I love red and gold leaves and the romantic light of a fall afternoon. Fall is my favourite season.
Now, I've had my eye on crochet wearables since the spring time–lacy tees, light weight tops, they have all been on my hook at some point this spring and summer–and some still are on my hook thanks to a very distracting baby. But being a woman who adores fall and everything that goes with it, the idea of crocheting big cuddly sweaters and fall wear is right up my alley.
Why I'm Obsessed with Wearables
Lately, I'm so obsessed with wearables. And I think it's because I'm tickled pink that the fashion world (and therefore everyone at large) has embraced crochet. I've long felt that crochet was looked down at as a craft, as some inferior yarn craft to knit. That the only "nice" wearables were knit pieces, and that crochet was just retro to the point of being cheesy or super old fashioned. That a lot of people just didn't get crochet and that crochet wearables were too "out there."
But I've always loved the look of crochet wearables! So many were really elegant and modern, and I just didn't understand why no one else outside of the crochet community got it.
Suggested for You: Crochet Wearables I'm Hooking Up
But they do now, and so I'm so so excited about wearables at the moment. I wish I had the time to hook them ALL up. These crochet wearables for fall really showcase the modernity and chicness of crochet and I am here for it.
Modern Crochet Sweater
I can't remember how I stumbled across this pattern, but I did find it on Etsy and I fell in love immediately. This big, chunky jacket is perfect for crisp and cool fall days. You could totally wear it over a tee and walk to the bus stop, or snuggle up with it and a cuppa as you read a book. To me, this is modern and chic and I really want to get this on my hook. Made by Jodi from Lambent Crochet, yet another Canadian crochet designer, this piece makes my heart sing. The hood, the bobbles! I am in love.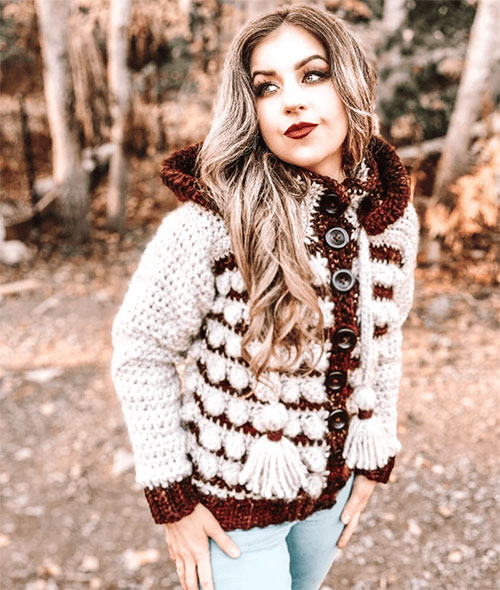 BoHo Hooded Sweater
Now, what's crochet without a little boho? I mean, the two go hand in hand. And I really the colour choices and look of this sweater from Star Lily Creations, who you can find on Etsy and Ravelry. I really think this piece is modern boho, perfect to wear at a cabin or cottage getaway when the night air settles in and you're ready to roast marshmallows. I love that this sweater is kind of sexy too.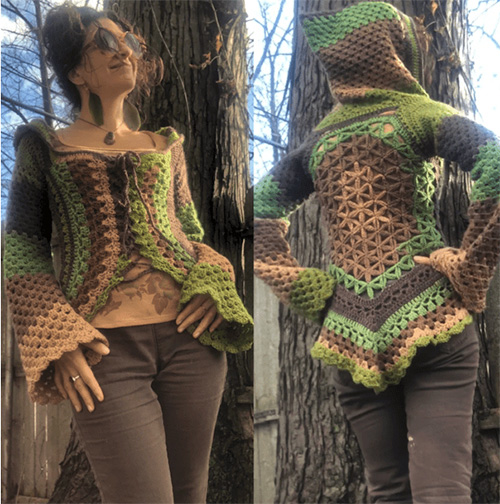 Celestial Cowl
Now, this isn't a sweater or dress but it is a piece that you could wear over a long sleeved tee in the fall to jazz up your outfit and add a bit of extra warmth. I love the look this so much. It's detailed but modern and I already have the yarn and pattern and am so ready to start this beauty. At some point in the winter, my mat leave ends and I have to go back to work, and I'm already envisioning wearing this to make a statement. Another amazing Etsyfind, this one is from Lesia Little Adventure, a Ukrainian designer I found through Ravelry and their support of Ukrainian designers during this time of war.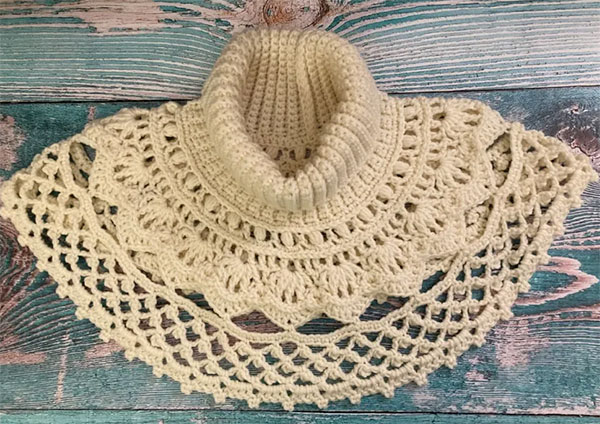 Mama In a Stitch Poncho
I think everyone knows Jessica from Mama in a Stitch, and I fell in love with this older pattern of her called Trails End Seamless Poncho and while I don't know how on trend ponchos are at the moment, I know that this is a piece that always has a place as a crochet wearable, especially for fall. Perfect for an evening stroll or just to enjoy a glass of wine out on the deck, it adds a bit of warmth to any summer or fall evening and is a nice piece to have with you on those fall days that start out chilly but end up warm when the sun comes out to shine. I'd love to have this in my wardrobe. And those tassels? Come on, those are winners in any piece.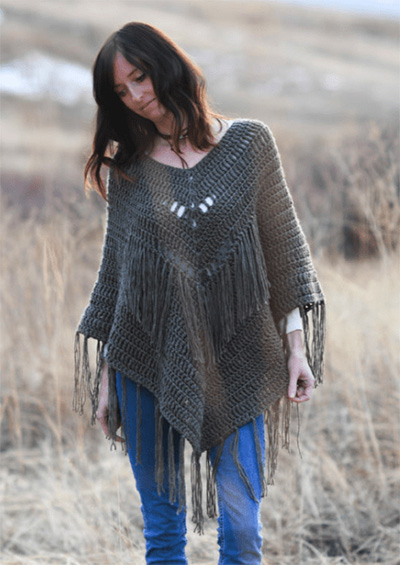 Goldenrod Sweater
Another designer I always admire (but haven't yet crocheted a piece by) is Linda Skuja, the designer behind Eleven Handmade, and I have to say this pattern that I found on Ravelrylooks amazing. I mean, this crochet wearable is so lovely for the fall time. The colour, the look of it. It's elegant and cozy and also classic while being modern. Once again, I am in love. I do have a pattern from this designer on hand that I bought ages ago and just never really got around to making and looking at this piece reminds me of how much I still want to make that other wearable as well, which also be perfect for the fall.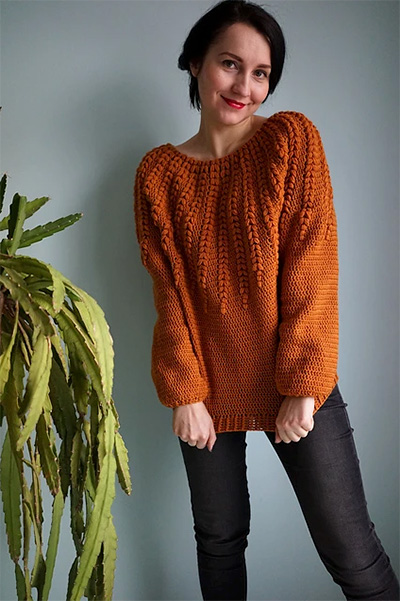 Final Thoughts
Well, I hope I can get some of these wearables on my hook! And even better, off my hook and into my wardrobe. I love that crochet is in, and I think crochet wearables lend themselves nicely to fall, spring, winter and summer so I really need to get crocheting. I hope you enjoy these posts of me ooohhing and ahhhing over wearables, because I have more coming your way! I totally want to share each wearable as I finish it up and also share a wearable I am currently designing. It's a slow process, so bear with me.
Be sure to subscribe to the blog and follow me on my socials!