Lacy crochet scarf patterns are my favourites—no one wants a boring scarf after all, and soon way back in the spring, when I bought some yarn, I knew that it was perfect for a fall scarf. I wanted to create a lacy crochet scarf for the season and the colours just screamed fall, so I tucked them away to save for just that project.
Fall colours, and the fall season itself, really inspires me. I always want to do it all the fall—crochet, read a ton of books, admire the changing colours, start a new hobby (usually something crafty like embroidery) and bake. So of course, I've been crocheting up a storm since mid August because my creative juices were just churning. And the Lexi Lace scarf is just one of the projects I crocheted for the fall season.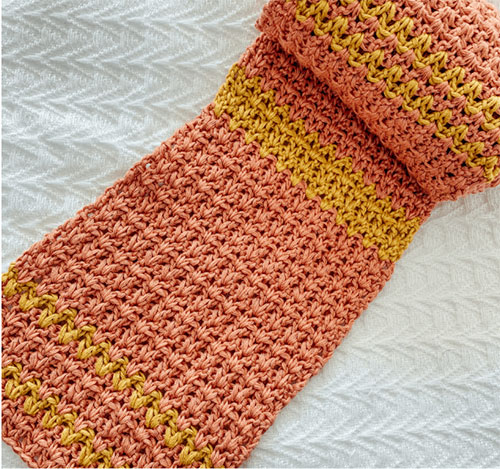 Now, of late, I've been obsessed with Lion Brand's Truboo yarn. I love the fibre, I love the colour selection, and I do have a fair of bit of this tucked into my stash. But I think you'll be seeing me using some other yarns a little more because while I do love this yarn, it has some draw backs and also, I love trying out a variety of yarns. Plus, this yarn is, in my opinion, better for spring projects or accessory pieces like scarves.
One thing I do really love about the Truboo yarn is that it has excellent stitch definition, so I did chose a stitch that the yarn would allow the stitch to shine. Because part of the beauty of knit and crochet is showing off the texture of the fabric you work up, and I really love doing that when I can. If you also love projects that show off stitch definition you might want to check out the Pretty In Cream Cowl pattern as well. 
Lexi Lace Scarf
For this pattern, I used a 4.50mm hook and just two colours, though one is featured far more than another. The colour work is asymmetrical but I love that about it and had a lot of fun just playing with when to colour change and how much of the accent colour I wanted to use. The stitch pattern is super simple but so pretty and I really do love designing pieces that are pretty and easy to crochet.
Materials
Two skeins of Lion Brand Truboo in Sienna, one skein in Goldenrod
4.50mm hook
Yarn needle for weaving in ends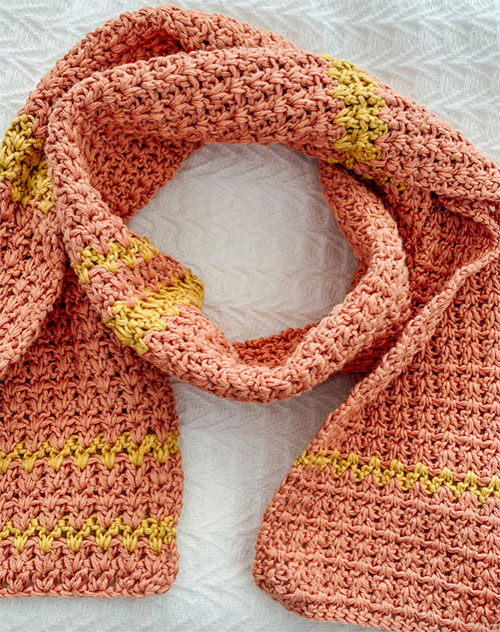 Measurements
Gauge: 2dc in two rows is equal to one inch.
Finished Dimensions:6" x 50"
You can find this pattern on:
BUY THE PATTERN
I really am in love with the scarf, I think it would look great tucked under a darker brown jacket with a pair of jeans, or wrapped around as an accessory piece over a white blouse. Really, there are of ways you can add this piece to your fall wardrobe, and I hope to wear this out on walks and maybe for a date night with my hubby. Scarves like this can add that extra bit of warmth that we sometimes need on cooler days or desire in buildings where the temperature is never what it should be–I know many of you know exactly what I'm talking about. So happy hooking everyone! This is a great piece for beginners and for those who need to do some easy crochet to soothe their minds and souls.
Happy crocheting! Be sure to follow my socials to see all the behind the scenes photos.