My newest design is this cute Robin Washcloth crochet pattern in basic stitches. Lately, I've really been feeling the crochet mojo. Sometimes, we all fall out of crocheting in a way, we become uninspired or just unsure what to hook up next. But lately I've had a lot of ideas and have been crocheting lots. And most recently, I designed a super cute, simple little washcloth.
It all began when I started having under eye dryness and redness. I know, this seems to have nothing to do with crochet, but just wait for it. This under eye dryness happened a few months after I had my baby, and I thought, hmm…is this a weird hormone thing? I used creams, and then got burned after waxing my brows. All through this, I had been trying to switch out my facecloths more regularly, because you know, bacteria. I even bought some re-usable make up remover pads and threw out some eyeshadows and brushes. I mean, no one wants puffy, red eyes. That's not attractive.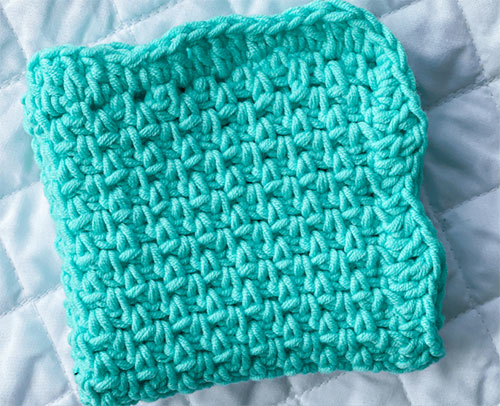 After I got burned, which I don't blame the spa for, I decided to stop using anything at all other than vitamin E and just let it heal. After that, I did come across a totally natural skincare brand, Glomalin (not sponsored or anything) which I suggest you try out because…wow.
Robin Washcloth Crochet Pattern
This little crochet washcloth uses simple stitches and so is beginner friendly. It might be the perfect little project for the newbie crocheter and a very practical one as well. I enjoy designing simple patterns because we all need those quick projects that are pretty but soothing, and sometimes we don't want to puzzle our brains over complicated row repeats and counts.
These are the perfect little housewarming gift, or even a nice gift for a new mom as baby washcloths. A little bundle of these would look charming simply tied with a pretty ribbon and being made from cotton yarn, they launder well.
Materials
Loops & Threads Capri Cotton, one skein in Turquoise
5.00mm hook
Weaving needle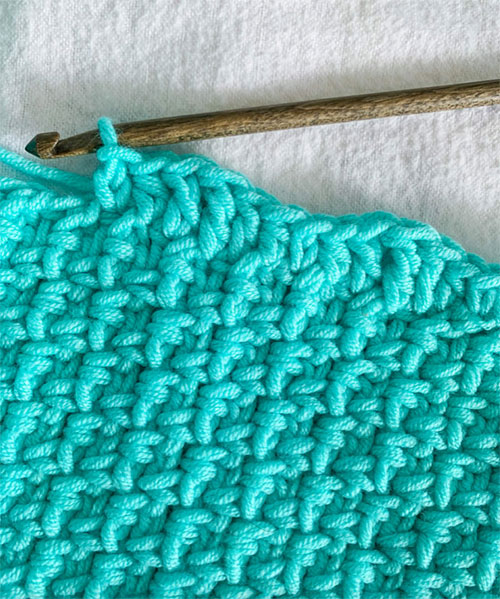 Measurements
Gauge: in 4 inches there are 8sc, 8chs. However, gauge is not very important for this project.
Finished Dimensions: 8 3/4 x 9 1/2″
I recently used my lovely little washcloth and it was really nice to pat my face dry with. I laundered it first, and can say that it is super soft and washed well so definitely give this yarn (and pattern!) a try.
You can find the pattern on:
I have some other projects in the works that I hope to share with you here soon! If you follow me over on Instagram, you'll have noticed I was working on a crochet blanket and that project is still on the hook. I'm just figuring out the boarder. I also have some smaller projects on the go as well, but the inspiration is hitting me left and right so more is coming. Which is sooo exciting for me.
Please subscribe to both the blog and the newsletter and you'll be entirely in the loop (pun intended) here on Pretty In Crochet.