If you love oversized towels, you might just love this easy to crochet oversized washcloth. I designed an easy washcloth a little while back and really love using it, and decided that I needed to hook up another one, so of course I set about designing a new pattern. And I have to say, I really love how easy this pattern is to hook up, but also the finished look is just chef's kiss in my opinion. Plus, the size of this is just so hygge.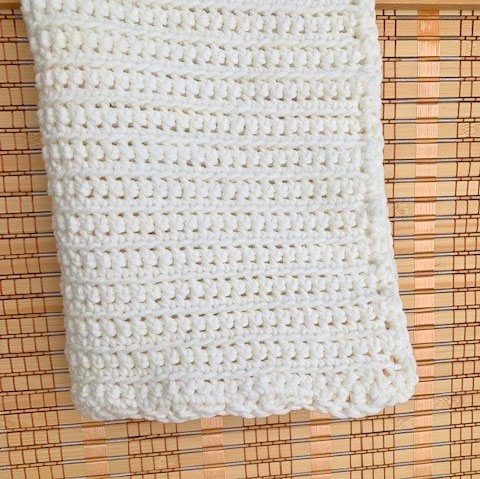 I chose to again use Loops and Threads Cotton Capri yarn because I really do like the way this yarn feels and hooks up. It's really great to work with and I do recommend this yarn for certain types of projects like washcloths and headbands. I have washed my Robin Washcloth many times and it's holding up nicely, so it was a no brainer to use this yarn in a new washcloth project.
Pattern
Oversized washcloths are very useful. I like to use it to just dry my face after a facial and I think having a larger cloth is really good for when you have a bath. Sometimes facials and baths are apart of our self care, and why not make it a little more luxurious by having a handmade, soft washcloth to take the comfort of those moments to the next level?
The pattern uses simple stitches, but has a bit of elegance to it as well, and that's what I love about crochet–you can easily make stunning pieces without having to do a lot of complicated stitch work–unless you want to, of course.
Home items such as washcloths, coasters, placements etc. are always a nice gift to give for a housewarming gift or hostess gift at a holiday party such as Thanksgiving. These would also be the perfect little gift to include in a little self care basket for the new mom as well. So for those of you that just love to crochet, these are wonderful for those special people in your life. And if you enjoy crocheting for charity, these could also be useful for donations. And of course, if you like crocheting for craft fairs, washcloths are always a big hit.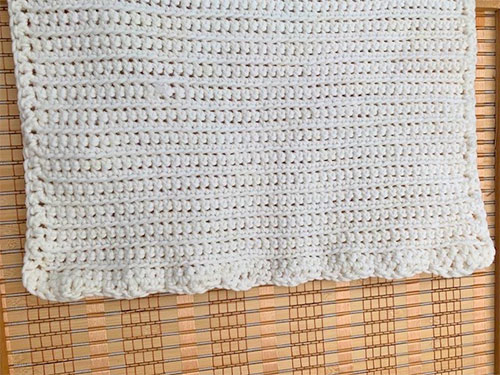 Materials
Loops & Threads Capri Cotton, one skein in White
4.50mm hook
Weaving needle
Measurements
Do be aware that for the washcloth, gauge is not super important.
Gauge: 14 sts x 14 rows in 4″ x 4″
Finished Dimensions:14″ x 12″
This is a really little project, and for me, projects like this are a great re-set after a larger project that required more attention and time. Especially if it's one I have had to frog or whatever reason before continuing–which happens to the best of crocheters and designers. And lately, has happened to me. A little project like this can really get your crochet mojo back. Happy crocheting friends!
Have you subscribed to the newsletter yet? It's just down below.