Seeing that it's pumpkin season, I decided on a whim to try my hand at crocheting some home decor that just happens to be pumpkin shaped—and so my Petite Pumpkins were born. I wanted to keep them relatively small because my own home is small so I don't have a huge fireplace or dining table to keep them on. Also, who doesn't love a mini pumpkin? I certainly think the real ones are adorable.
Pumpkins are perfect for fall home decor—they've got the autumnal colour of orange, are in season and have been used for pumpkin pie and jack-o-laterns for decades here in North America. In more recent times, we have embraced pumpkin spiced coffees and teas and so, pumpkins have incorporated themselves into our home decor in a big way in recent years.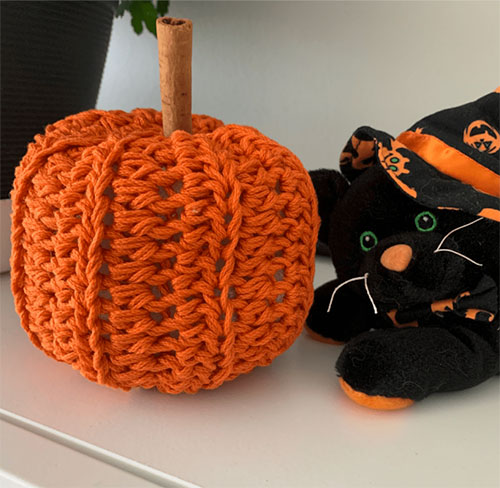 Pattern
In creating this pattern, I used some yarn from my stash—I recently ordered way too much of Lion Brand's 24/7 in a bright orange colour—and decided to hold it double. I played around a little with the width of this pattern, making a few prototypes before deciding which I thought it was best for the pattern.
I've decided to sell this pattern for a majorly discounted price for the month of October 2022. You can buy this pattern on Ribblr or Ravelry for a mere $1.75 Canadian—so if you're American, you'll be be saving even more.
After October, the price goes up so be sure to grab the sale now.
The pattern for this crochet pumpkin is super simple to make, and I've included detailed assembly instructions. Anyone who can can crochet basic stitches can crochet this pattern, which I think is important to point out because I know some makers look at some projects and think that they are far more complicated and difficult than they are, and a project like this might give that impression as well. I certainly used to shy away from from a ton of projects thinking they were beyond me when really, they were so easy to crochet.
Materials
Two skeins of Lion Brand's 24/7 in Tangerine
6.00mm hook
Polyfill
Cinnamon stick
You can find the pattern on,
I can't stop making these Petite Pumpkins and I think they are the perfect hostess gift for Thanksgiving. I'll definitely be gifting a few at each of the Thanksgiving dinners I attend this year—we usually get two turkey dinners with all the trimmings in my family. And way too much dessert for that matter.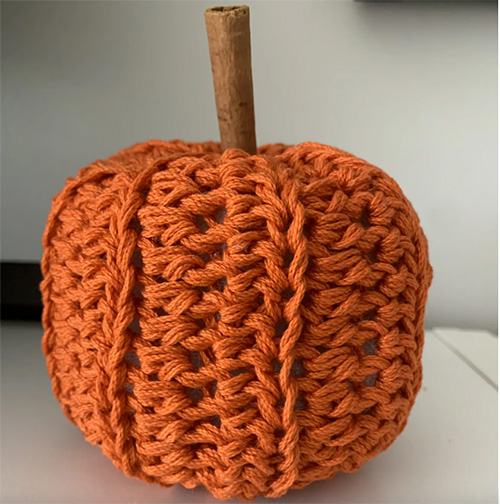 Suggested for You: Cafe Latte Mug Rugs 
The wonderful thing about these pumpkins is that you can make them in the traditional pumpkin orange, or you can use neutral colours, or even colours that match or compliment your own home decor. Crochet pumpkins for multiple rooms if you like!
If you want FREE patterns, be sure to subscribe to my newsletter. Also, be sure to follow me on Instagram and Facebook for behind the scenes previews and sneak peeks at upcoming patterns and projects.
Are you making pumpkins this season? Share what's on your hook this fall in the comments below.