I was inspired late in 2022 to try my hand at designing a cowl with fingering weight variegated sock yarn. I had the yarn at home; but it was only enough to make a small project—a shawl perhaps, socks, cowl or scarf. It had been sometime since I had designed a cowl, and I decided that it would be fun to really play with simple stitches and colour and create something pretty that all crocheters of any ability level would like to make.
Thus, the Winter Sunset Cowl was born. I chose this name because the colours in this piece are winter (cool) colours, but also because you might see some of these colours in a sunset as well. Blues, reds and purples against a bit of forest green really brings to mind a winter sunset to me at least, and I'm so glad I decided to use this yarn in a cowl.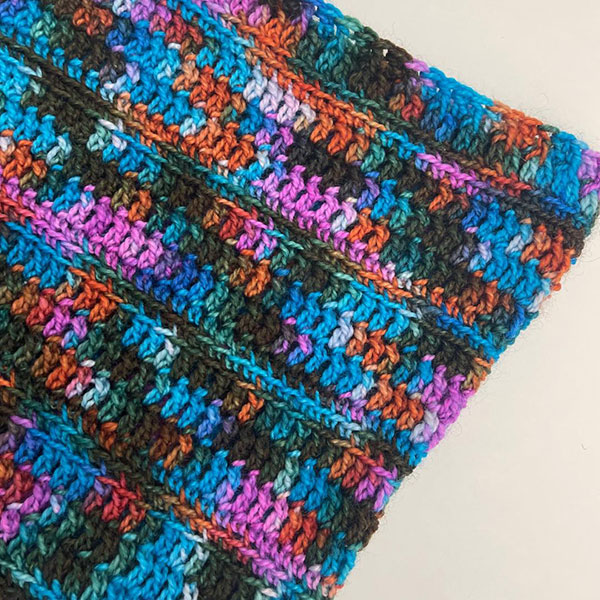 Pattern
The yarn I used is Hedgehog Twist Sock in Dragonfly. I really love this yarn, I've been working with different colours from this line all fall and it's a lovely yarn to work with and the colours are just breathtaking. A fingering weight of merino and nylon, this yarn is fun and warm and I had a great time working with it. It's really awakened my love of working with fingering weight yarn. I used a 3.50mm hook and decided to try my hand at working in the round—something I'm not crazy always about (I always twist the chain which is soooo frustrating) but which I knew would bring a consistent look and feel to the piece I was creating, and that is really what I was going for.
Suggested for You: Simply Lovely Shawl Pattern
This pattern uses simple stitches and techniques and so is beginner friendly. I really like creating beginner friendly patterns because crocheters of all levels can access them. Expert crocheters might not always want to work on complex things and those who are new to the craft need projects that will allow them to practice skills, create a beautiful piece and hopefully be encouraged to advance their skill set.
Materials
One skein of Hedgehog Twist Sock in colour way Dragonfly
3.50mm hook
Measurements
Measurements are when item is blocked, so you may want to swatch and then block to make sure your gauge is matching.
Look at me, recommending swatching 😉
Gauge: 15 sts x 13 rows = 4″ x 4″
Finished Dimensions:11 1/4″ x 9 1/2″ x 11″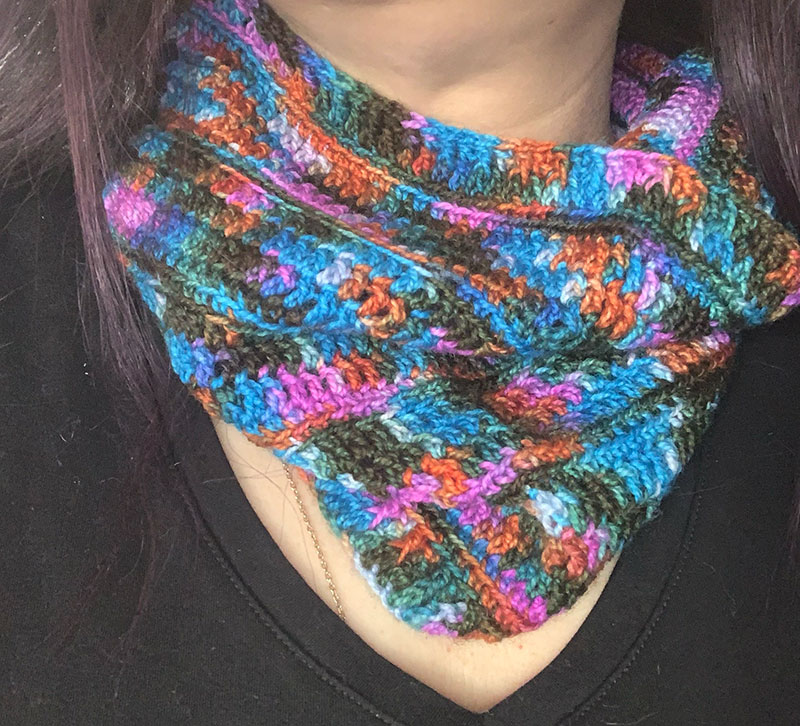 You can find the pattern on:
It's a lovely cowl that provides warmth and a splash of colour under your black winter coat–I know your winter coat is black. Who's isn't? But I also think this would look good paired with a white or off white sweater, or a camel long sleeved tee. Cowls are great to add warmth a little something to an outfit and I have to admit, I am loving crocheting and wearing them lately.
I am so happy this is the first pattern I'm sharing this year and soon you'll see more tutorials as well as patterns.
Be sure to join my Facebook group to join in on the fun over there!