**Updated May 3, 2023**
I originally designed this pattern back in 2018, and I continue to love this hat. I love the look of the front post stitches and how this hat came together. It's simple, but placing front post double crochet stitches next to each other created a fabric that is perfect for winter hats here in Canada where the wind can be frigid. This hat lends itself well to other colour combinations as well and remains a favourite here on the blog. Possibly because it's free, but I also think it's a fav because it is so eye catching.
I don't have a lot of seasonal pieces in my design collection, so I am happy to be able to offer this one for the Christmas season. It's perfect as a Santa hat during the holiday season, but since it's understated enough to be a great winter hat–we could all use a pop of colour during the blah months of January and February after all. But let's dive into the original post, which is below!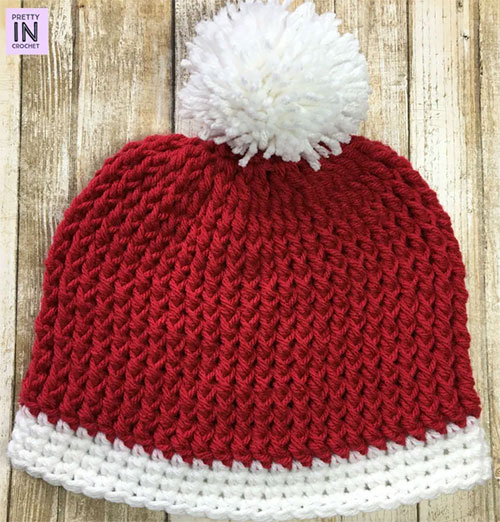 July, 2018 Original Post
Tis the season to get seasonal and therefore I created the Santa Pom Pom Hat! To be honest, this is the first hat pattern I've created so I am super excited to share it with you! I use front post double crochet stitches to get a denser fabric, and thus a warmer hat, and I have to say I love how these stitches look placed next to one another. I am very pleased with my first hat pattern!
Other bloggers might be sharing fall crochet patterns right now, but since I made a Christmas hat I decided I just had to share it. Plus, it gives you plenty of time to hook these up as Christmas gifts 😉 I might share fall patterns later though, since it is my favourite season. So if you like seasonal crochet patterns, be sure to check back or better yet, subscribe to the blog to be sure you don't miss out.
The Santa Pom Pom Hat came into being because I wanted a Christmas hat. Something I could wear during the season that was cute and warm and just Christmas-y. There were some cute patterns out there I might have tried my hand at, but they didn't quite fit the vision of the hat I had in mind. I wanted something basic with a pom pom. So I decided to try and make own and I'm over the moon that I was not only successful, but that it turned out as cute as it did. I absolutely love the look of it.
Santa Pom Pom Hat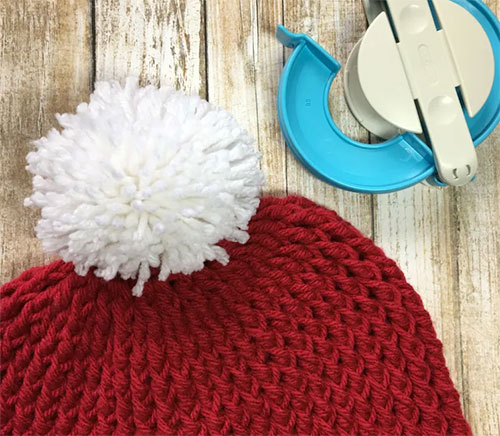 Materials
1 skein of Loops and Threads Impeccable, Cherry
Small amount of white yarn, I used Loops and Threads Impeccable, White
6.00mm hook
Clover pom pom maker, large size
Row 1: Ch 3, 12 dc into 3rd ch from hook, sl st into first dc. (12 sts)
Row 2: C3, 2dc into ea dc from previous row. Sl st to join to first dc. (24 sts)
Row 3: Ch 3, 2fpdc around ea dc from previous row. Sl st to join to first dc. (48 sts)
Row 4: Ch 3, fpdc around ea st from previous row. Sl st to join to first dc. (48 sts)
Row 5-16: Rep row 4.
Row 17-19: Ch 1, sc in ea st around. Fasten off. Weave in ends.
Attach pom pom once you've made it and viola! You have a super cute pom pom hat! And, it's perfect for Christmas time isn't it?
You can also find the free PDF on Ribblr.
Subscribe to the newsletter for more free patterns!