When you first learn to crochet, you learn all the basics stitches–single crochet, double crochet and treble crochet as well as the slip stitch, chain and half double crochet. But there are variations some of these basic stitches, and one of those is the extended single crochet.
This isn't a stitch I see used a lot, although I am seeing it used more. It's the same height as the half double crochet so I tend to see that used more often. But the extended single crochet does have a nice look to it, and can be a change from using the basic stitches in your projects. Plus, because of the way it's hooked up, it does show off the chain stitch in a way that we don't usually see in crocheted pieces. It's a stitch I like, and today you'll not only learn how to make the extended single crochet, but be able to grab a free pattern as well that features this interesting stitch.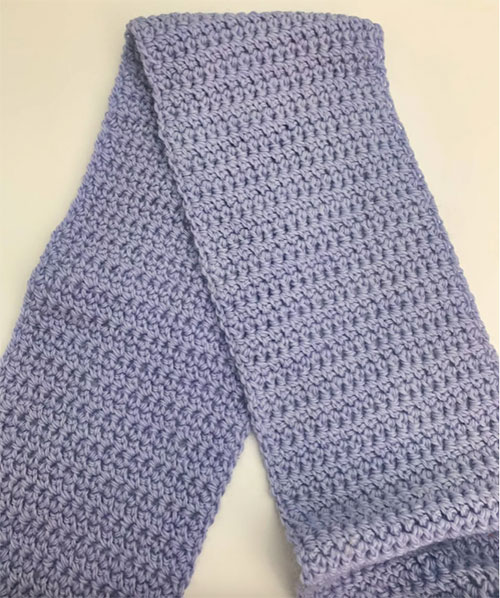 Extended Single Crochet
This stitch is really easy, so don't sweat it too much. You'll have it mastered in no time. In fact, once you have a little swatch worked up, why not try playing with the stitch a little? Try it in the back loop only, or the front loop only and see how that changes the look of your work. And of course, you can grab my free pattern for the Cozy Winter's Day Scarf.
Cozy Winter's Day Scarf Pattern
I actually made this scarf in the summer because when the yarn was delivered, I just couldn't resist it, but I decided to save the pattern for the winter because this yarn is definitely one that is more suited to colder days. Lana Gatta Class is a worsted weight yarn made with an Angora merino blend and is fluffy and soft.This yarn does not itch and was divine to work with. I love the squishiness of this yarn and I love the colour. The muted pastel just says cozy winter to me. I love that it's blue but also purple and maybe a little grey, it's just a lovely colour.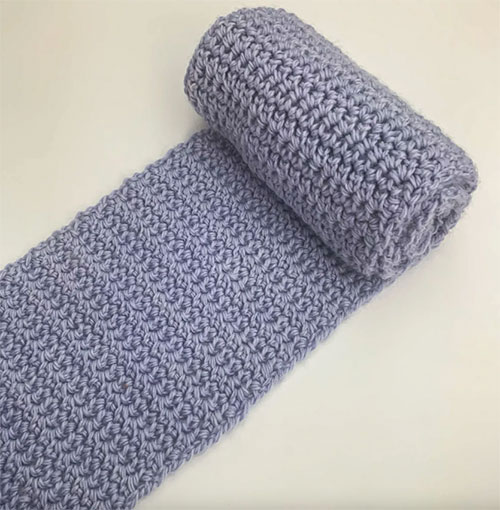 Materials
Two skeins of Lana Gatta Class in Light Lilac
5.00mm hook
Yarn needle
Measurements
Gauge: 11 sts x 12 rows = 14"
Finished Dimensions: 6 1/4″ x 49″
You can find the free pattern on:
Happy New Year!
It's nearly 2023, which really is amazing because I feel like it was only yesterday that I sat down to re-brand Pretty In Crochet and start designing again. It's been so much fun too! I hope you have enjoyed the blog and the direction I have taken it in. I love crocheting and sharing and the blog really allows me to do just that as well connect with all of YOU which is so special to me. I love reading the comments and getting the chance to hear your thoughts on the craft, patterns and more. Hopefully 2023 will be bring us closer together!
If you are not already, please follow me on Instagram; I share a lot there about projects I'm working and designing.
Happy New Year, and happy crocheting!